PrestaShop - what is it?
There are thousands of online stores on the Internet. Every store on the Internet uses an engine, or source code, which is responsible for the operation and functionality of the store. Depending on who creates the source code, there are three main types of eCommerce stores:
Open source stores - they are free to download, you can install them yourself on your own server, modify and expand them, so their operation is familiar to developers and implementation companies. Modern open source engines do not require programming knowledge, but in order to take full advantage of their potential, it is worth using the services of programmers, SEO agencies, etc. Open source stores are largely developed by the community. Examples: PrestaShop, WooCommerce, Magento.

SaaS stores, orSoftware as a Service - paid, often subscription-based, store engines whose authors develop the source code on their own and do not make it available for editing to users. SaaS is an "off-the-shelf" solution, with a low entry threshold and integrated with the owner's server.

Custom-builtstores - companies with the right capital build their own store engines integrated with many internal tools. Many customized stores use open source engines at the base!
PrestaShop is open source software. The PrestaShop source code is maintained by the PrestaShop brand and an international community participating in the software development since 2008. The source code is free to use, extend and modify as needed.
Starting a PrestaShop store on your own

If you are a beginner - you will need a server that hosts the PrestaShop installer. Many servers have such an installer in their standard offer.
If you know how to use servers and know what FTP is - download the package from the official PrestaShop website, upload the files and install the store on any server.
If you are an experienced seller or administrator - PrestaShop works perfectly with the rich resources of VPS and dedicated servers, which can be optimized according to your needs and used add-ons.
The PrestaShop installation process is simple and resembles installers of other systems.
Where did the popularity of PrestaShop come from?
PrestaShop is all about community and user support. Thousands of freelancers and sellers form forums and online groups where there is a constant exchange of knowledge and experience.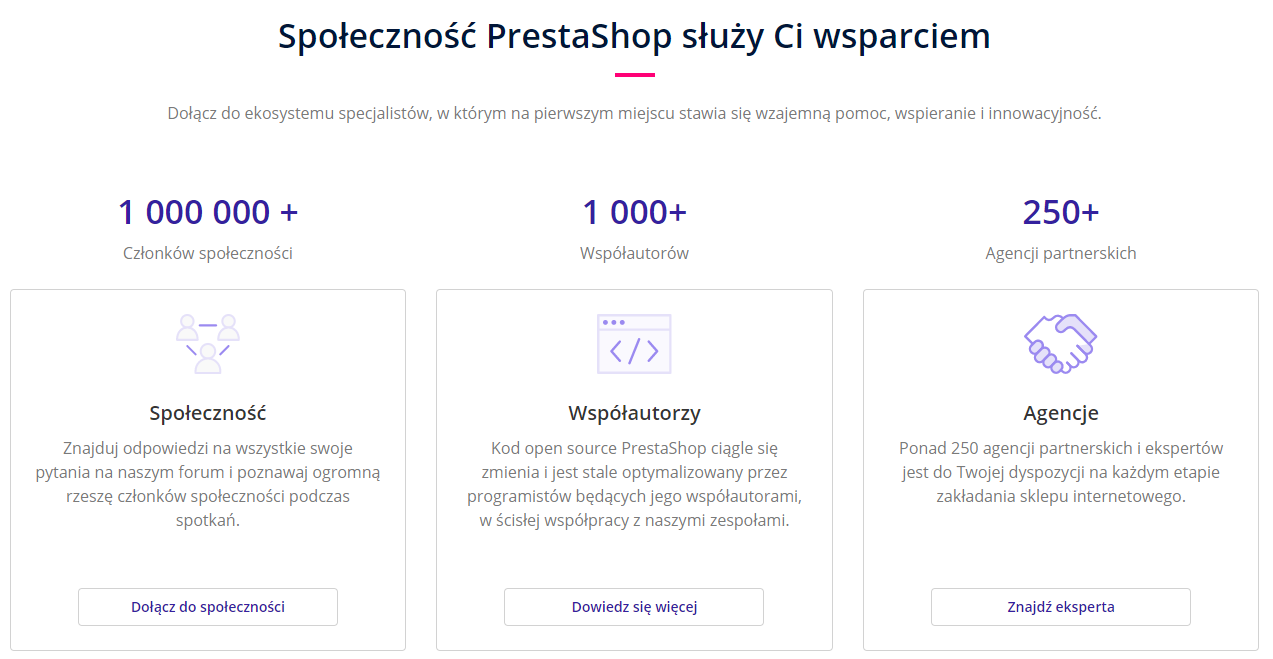 Click here to go to the PrestaShop community center
It's worth taking a look at the official PrestaShop Help Center https://help-center.prestashop.com/en and the PrestaShop Academy, which features lessons covering the eCommerce industry and store operations: https://www.prestashop-academy.com/en. Both portals are available in English (2022/08), but we have some information that the team is already working on a Polish version.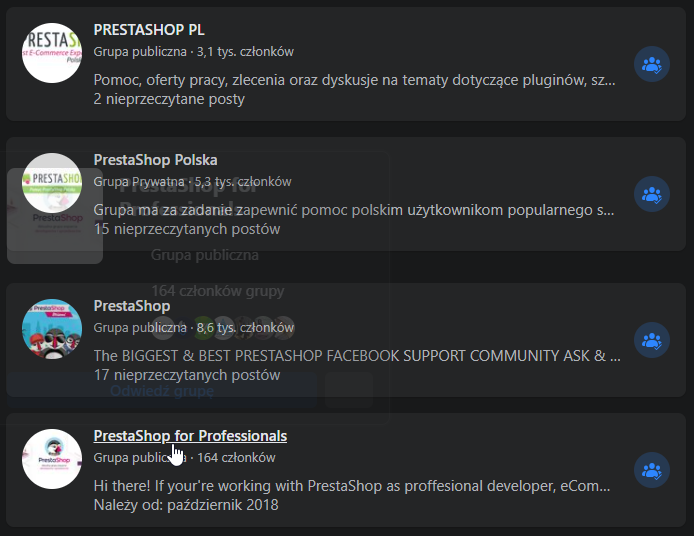 On online groups and forums you will find a huge dose of knowledge
Theopen and structured source code has for years attracted the attention of developers who have managed to get to know the PrestaShop system inside out. When building online stores, they can create their own modifications or use ready-made modules (plug-ins) provided by the community. For the store owner, this means a lot of room for maneuver in creating a store based on their own personalized vision.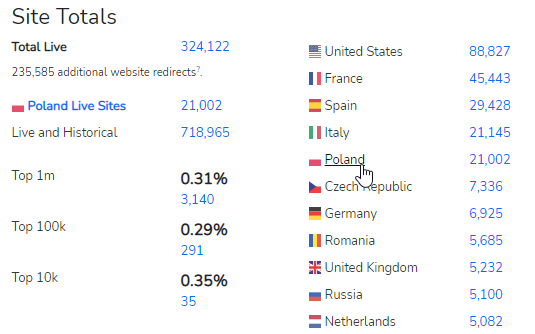 According to the Builtwith website, there are more than 320,000 PrestaShop-based stores in the world, of which nearly 8% are in Poland.
PrestaShop uses modern technologies familiar to developers and easy to maintain, modify, expand and manage (e.g. Smarty, Twig, Bootstrap, Symfony). The current version of PrestaShop 1.7 at its core uses the free Symfony framework, which is one of the more popular engines for building advanced websites. This framework has increased PrestaShop's appeal to implementers and developers from around the world.
The clear source code makes PrestaShop appreciated not only by freelancers and small businesses - moreover, it also finds supporters among the largest brands selling online. This proves the enormous scalability of the PrestaShop engine. This, in turn, makes it possible for virtually anyone to have an online store - whether it's an individual with a limited budget or a well-established brand processing hundreds of orders a day online.
The PrestaShop interface allows you to build an e-store based on standard PrestaShop functionality, as well as based on templates and modules that can be added to the store. In most cases, all the work consists of selecting the necessary elements and "uncluttering" their settings, adjusting them to your needs. As a result, you get your first store - perfect for eCommerce applications.
PrestaShop Admin Panel: Dashboard, product management, order list and module management.
If you are not a programmer, then PrestaShop is a good choice. The system is set up so that with a little commitment you can build your store yourself and make your first sales on it.
PrestaShop addresses the basic needs of online store operations, including: managing product catalogs, customer database, secure order process, integration with couriers and online payments, and in conducting analytics and marketing activities.
PrestaShop has very good technical and user documentation translated into many languages.
Presta allows you to personalize the appearance of the store - there are more than 20,000 graphic templates available on the market, prepared for various industries and products.
PrestaShop is thousands of ready-made modules that you can upload to your store and start using them right away.
The natural positioning of the online store is of huge importance, which is another convenience for beginners. You can perform optimization against search engines yourself in the administration panel.
.

Default PrestaShop template - the front part of the store available to buyers. Sequentially: home page, category page with product list, product page, shopping cart and order process.
Leaks straight from PrestaShop headquarters
For the entry we invited a PrestaShop specialist and veteran in Poland. Krystian Podemski, in question, has been working and collaborating with PrestaShop for more than a decade. He has been spreading knowledge and developing the community since the days when classic online forums still led the Internet. Krystian will talk about the near future of PrestaShop.
Technology in PrestaShop, what's in 2022?

Krystian Podemski - programmer and Tech Evangelist PrestaShop Poland

"PrestaShop is already one of the most flexible solutions available on the market.

Since version 1.7 of PrestaShop, part of the engine has been rewritten to the Symfony framework, this gives developers even more possibilities to interfere with the default mechanisms of the platform and facilitated creation of their own. The move to the Symfony PHP framework is intended to help Presta mature, moving away from an in-house solution to one that is known throughout Europe. We are giving developers a tool that many of them are familiar with, this should make it easier for them to work on new stores and services for them.

PrestaShop 8.0.0, which will be released this year, will support Symfony 4.4 long term support (LTS) and PHP 8.1. C, the goal of the entire team of project maintainers is to make sure the platform is as competitive as possible and compatible with current technologies.

Twig, Doctrine, the ability to modify the Symfony container directly from modules, are just a few elements by which the developers' work should be easier. You can read a lot about the technical aspects of PrestaShop on the official developer blog https://build.prestashop.com/ and in the official documentation for developers here."
PrestaShop templates
A template, or the appearance of the store. The market offers a huge number of various ready-made graphic templates. The wealth of graphics and layouts available in PrestaShop templates allows you to create a shopping platform characterized by individual design and functionality. You can modify any template you upload to your store - another advantage of PrestaShop.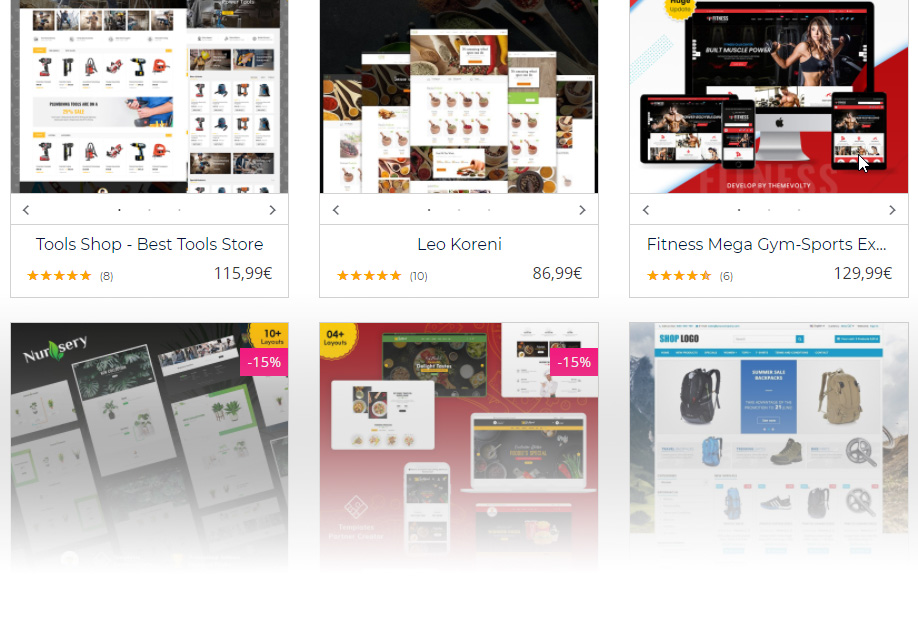 On the Internet under PrestaShop templates or themes you will find thousands of ready-made looks for your first professional online store.
PrestaShop is an engine that easily undergoes modification and expansion. This feature makes life easier for experienced sellers who have specific needs and design online stores from A to Z, starting, for example, with mockup and custom graphic design for Desktop and Mobile. Therefore, if you are creating an online store based on an analysis or business plan and have specific needs - you will easily find the necessary design and programming support, as each element of the PrestaShop store can be customized individually.
Check out the latest default template for PrestaShop 9.0! Information about it is spread on github, and you can view the graphics online at Figma: https://github.com/PrestaShop/hummingbird/issues/2
Since the PrestaShop code is open and flexible, professional implementation agencies can design a customized look and sales features. These advantages make PrestaShop adaptable both to a huge product base and to selling 1 product, even a virtual one. As a result, you create an online store that suits your needs and business plans.
PrestaShop modules
Another advantage of creating a store based on PrestaShop is the availability of a huge number of modules. With appropriately selected plug-ins, you can build a modern online store that not only performs well in the eCommerce market, but also does not require expensive implementation and complicated maintenance.
Module (plugin, plug-in, add-on) PrestaShop allows you to introduce new functionality to your online store. With the help of modules, you can extend the basic functionality of PrestaShop with new features and integrations.
PrestaShop in the basic version is equipped with many necessary modules. In addition, there are free and paid modules available on the market.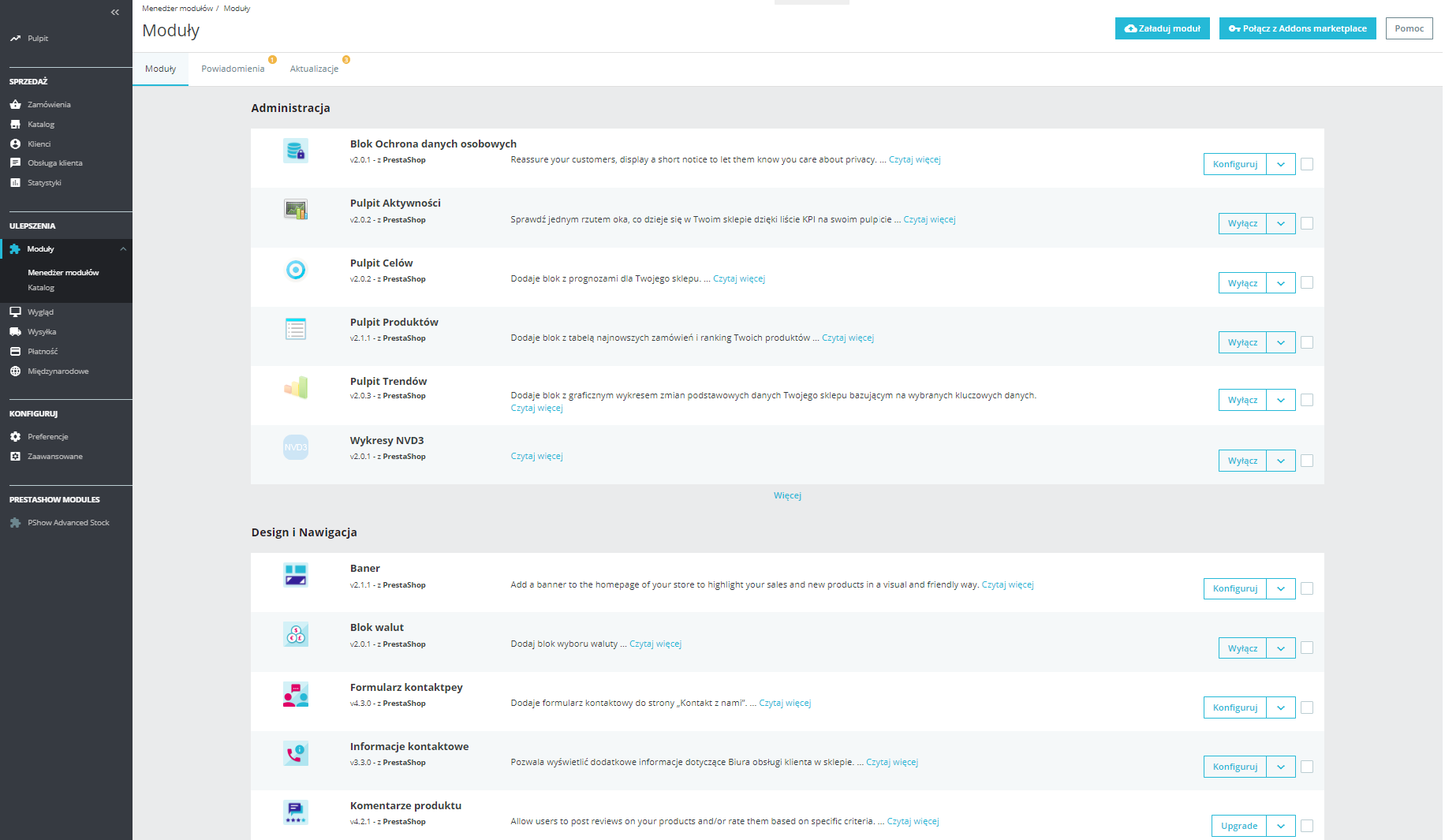 List of standard free modules you will find in PrestaShop admin panel.
In addition to the default modules in PrestaShop and free modules available on forums, you can use paid modules created by agencies that know the problems and needs of stores and create modules to support or automate eCommerce work at different levels:
Integrations, such as with wholesalers, payments, parcel machines, Google Analytics, Instagram, Facebook or ERP systems
Customer communication management, such as lookbooks, banners, pop-ups, promotions
Managing content and building SEO value, such as running a blog like this one
Establishing customer relationships, e.g. affiliate and loyalty programs
Modules that allow customer interaction are a new category of modules. Until now, developers creating modules focused on automating the operation of an online store and integrating with external services. Today we know that a returning customer to your store is a very important customer. Nowadays, more and more emphasis is placed on contact with product buyers - hence the offers of companies creating PrestaShop modules include blogs with the possibility of posting products and loyalty or affiliate programs with exclusive bonuses only for participants.
To ensure that the implementation of new modules is efficient and their use is pleasant, it is worth paying attention to whether the company creating the modules provides a performance guarantee, HelpDesk support and a system of module updates.
A small store gets big
Over time, your store may require adjustments or changes that you won't be able to make on your own. That's when it's worth getting help. The prices of programmers on the market range from PLN 20 to 200 per hour. Many companies will easily price the commissioned work in advance. It's worth making sure you stay in touch with a freelancer or a company that will provide support when you need it.
Why is PrestaShop worth considering?
Online stores built on the PrestaShop engine are characterized by flexibility and scalability. Depending on your needs and available budget, the shopping platform can be expanded both in terms of new functionalities and the number of products and integrations, such as with wholesalers.
PrestaShop is a free set of tools for running:
Local sales, e.g. a sausage store
Domestic sales, such as a furniture store
International sales, such as a virtual products store :)
In the standard PrestaShop engine you will find features such as:
Domestic and international tax and currency handling
Convenient translation in any number of languages
Management of multi-variant products
Multistore - management of multiple stores from one administration panel
Affordable shopping cart and purchase process
Possibility to integrate with any service, suppliers and payments available on the market
PrestaShop is constantly being developed
Availability of regular updates and simplicity of migration to the latest version guarantee a high level of security and reliability of work. Functionalities that a few years ago were available only on individual order, today with PrestaShop you can implement quickly with the help of ready-made modules, programmer or software house. New features also come with free updates to the PrestaShop engine.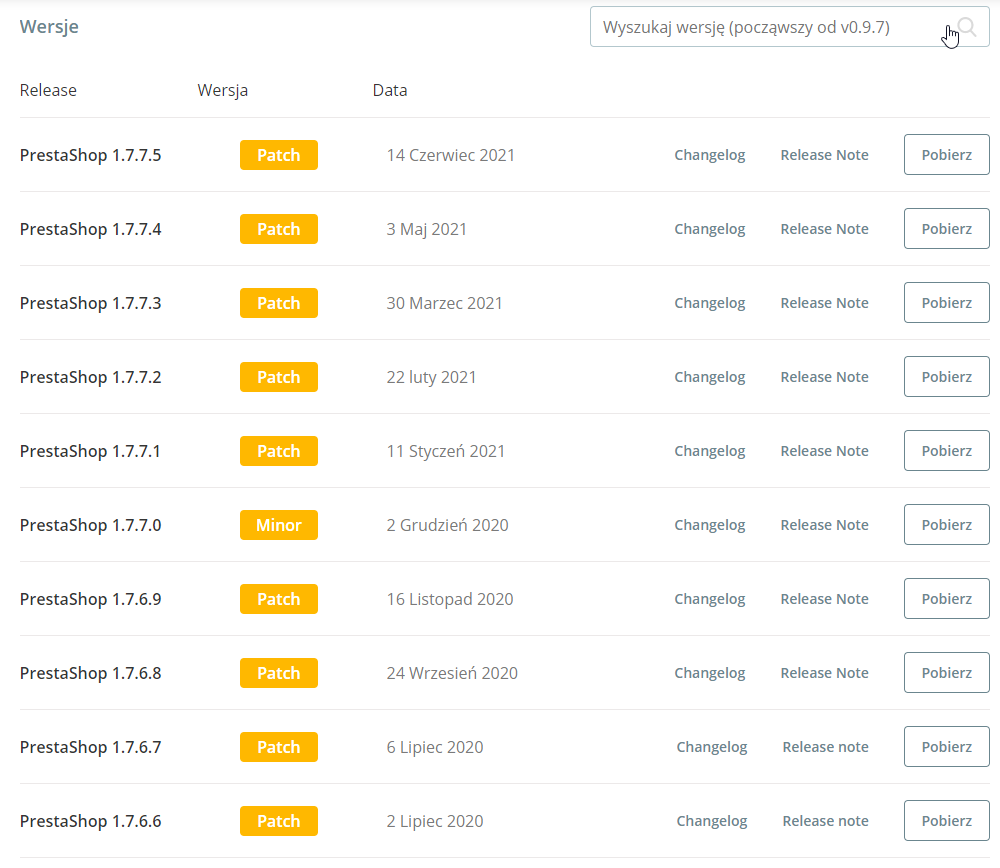 PrestaShop released as many as 10 different updates over the course of a year (2020), consisting of new features, fixes and community-submitted improvements. Click here to learn more about the history of PrestaShop.
What capabilities do PrestaShop modules have in 2022?
Doesn't PrestaShop sound mysterious anymore? :-) At PrestaShow, we have been working with Presta since 2012. During this time we have implemented dozens of stores, helped thousands of owners and built 35 modules for PrestaShop.
Below are the most popular modules in 2021. These are well-liked and internationally unique solutions. In the process of designing them, we are accompanied by a wonderful community of our customers and a vision to provide functionalities that until now you have to reach for external tools. Why run your business from several places when you can with PrestaShop? :-)
Import Manager - flow of information between the store and multiple wholesalers simultaneously
Google Integrator - lossless analytics and integration with Google tools
Advanced Warehouse Management - give up external ERP programs
PrestaShop Invoices - all accounting directly in your store
Price Master - smart price management: markup, mark-up, rounding, mass change.
We believe that PrestaShop is a valuable and worthwhile platform for building an online store. This is evidenced by the growing popularity of this system, and that you will start building your own eCommerc empire on your own or with any budget :-)