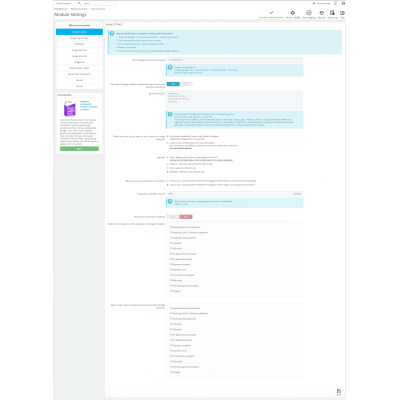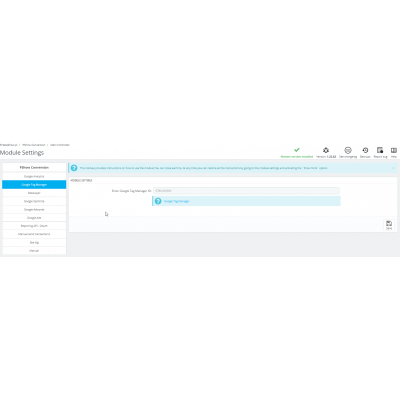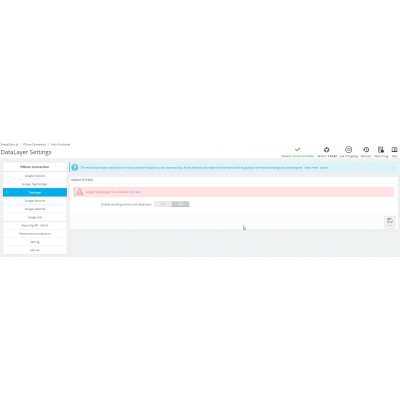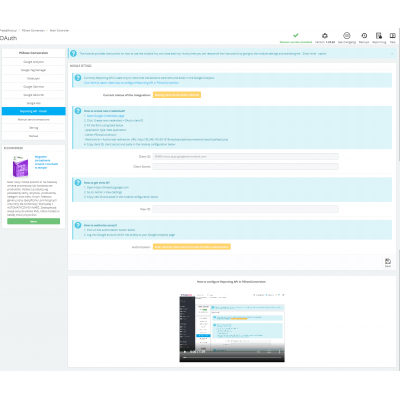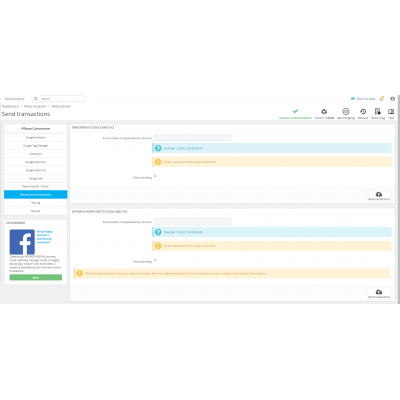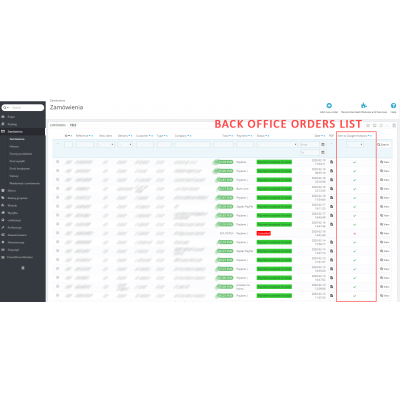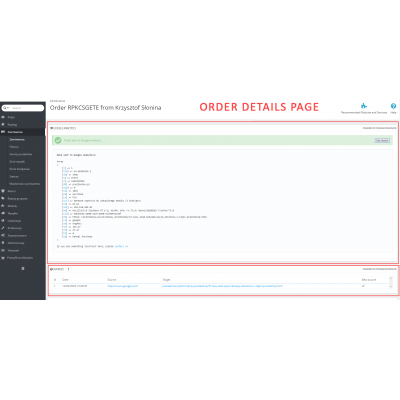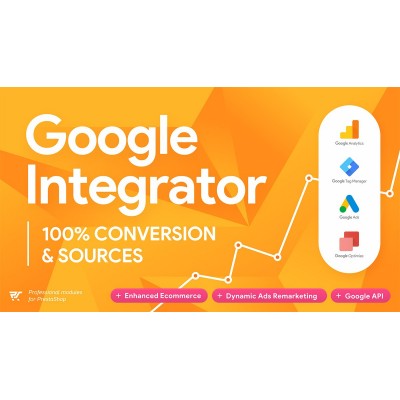 Support for all eCommerce related news in Google Analytics 4
Precise analytics and connection via Google API
Guarantee of passing 100% conversions
3-step determination of traffic sources
Support for Google Ads and lossless dynamic remarketing
Integration with Google Tag Manager and Google Optimize
Ready set of DataLayer events
Support for all payment methods and support for multiple currencies
Order analytics on a single page (OPC) and orders in multiple steps
PrestaShop & Google Analytics
The module will integrate your store with Google Analytics, Google Analytics 4, Google Ads and remarketing, Google Tag Manager and Google Optimize tools. Take advantage of all the capabilities of Google, PrestaShop and your server to collect and analyze traffic statistics, customer origins, and product and order information without loss. The module examines the sources of inputs and traffic to your store already at the server level and JavaScript in the customer's browser, so it accurately supports dynamic remarketing for Google Ads.
For communication between your store and Google tools, we used Google API. This guarantees a lossless connection that will transfer absolutely all information and every order from your store to Analytics.
Google Analytics 4
Google Analytics 4 has become the default version in all new services, and it is in this version that Google will make future improvements. This module supports all statistical and analytical functions for GA4 and for GA UA.
Google Analytics UA is supported by Google until 2023-07-01, until then we recommend switching to GA4.
The module can support GA UA and GA4 at the same time.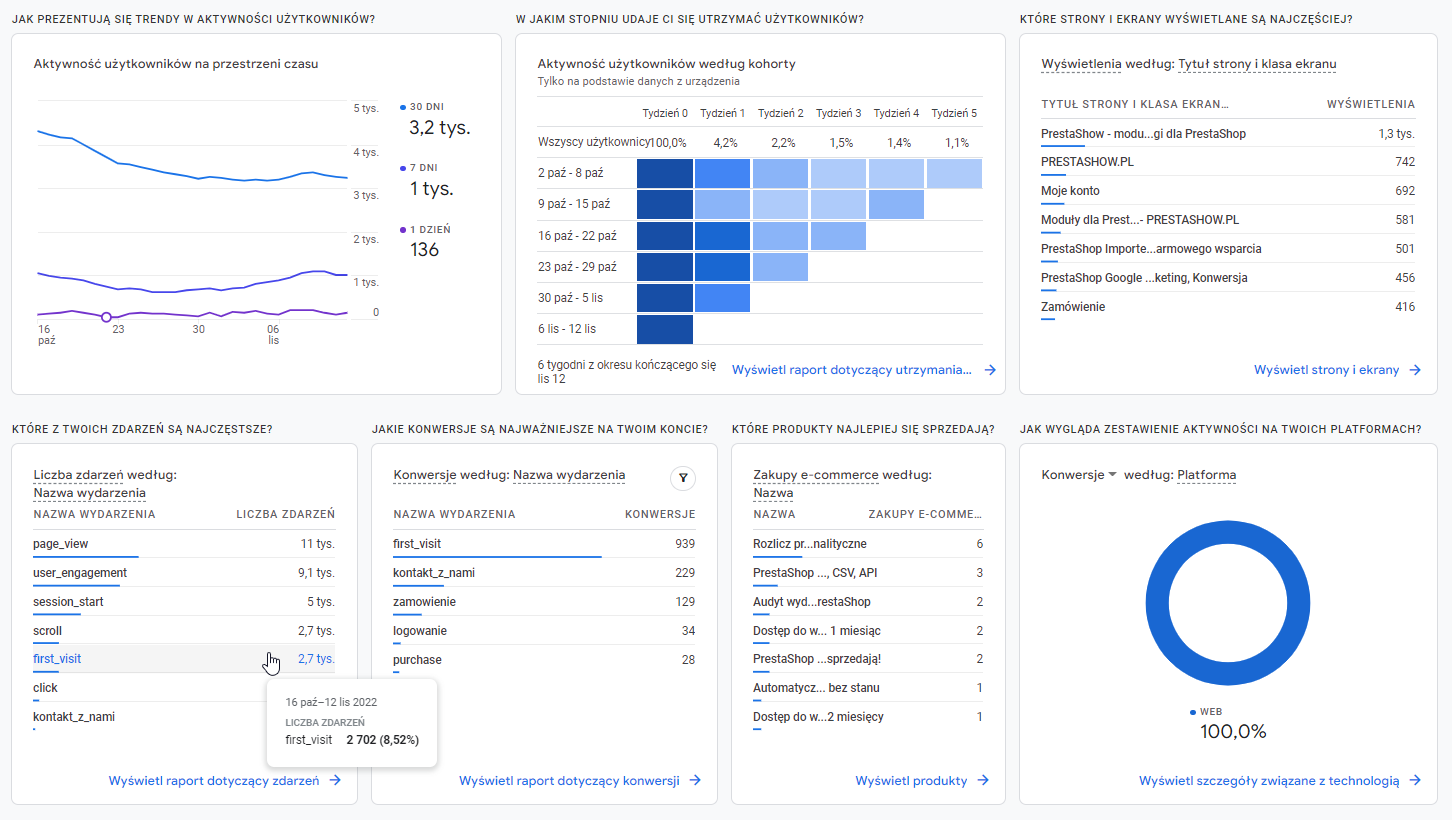 GA4 event pack for PrestaShop
In the module you will find a ready-made event pack that you can upload to Google Tag Manager. This will ensure that all events from your store are accurately tagged and transferred to Google Tag Manager.
Product entry from the product list
Direct entry into a product
Browsing the product list
Adding a product to the shopping cart
Removing a product from the shopping cart
Browsing the shopping cart
Starting an order
Complete shipping information
Completing payment information
Finalizing the order
You can enable debugging mode in the module to get a live view of all events sent by the module in the browser console.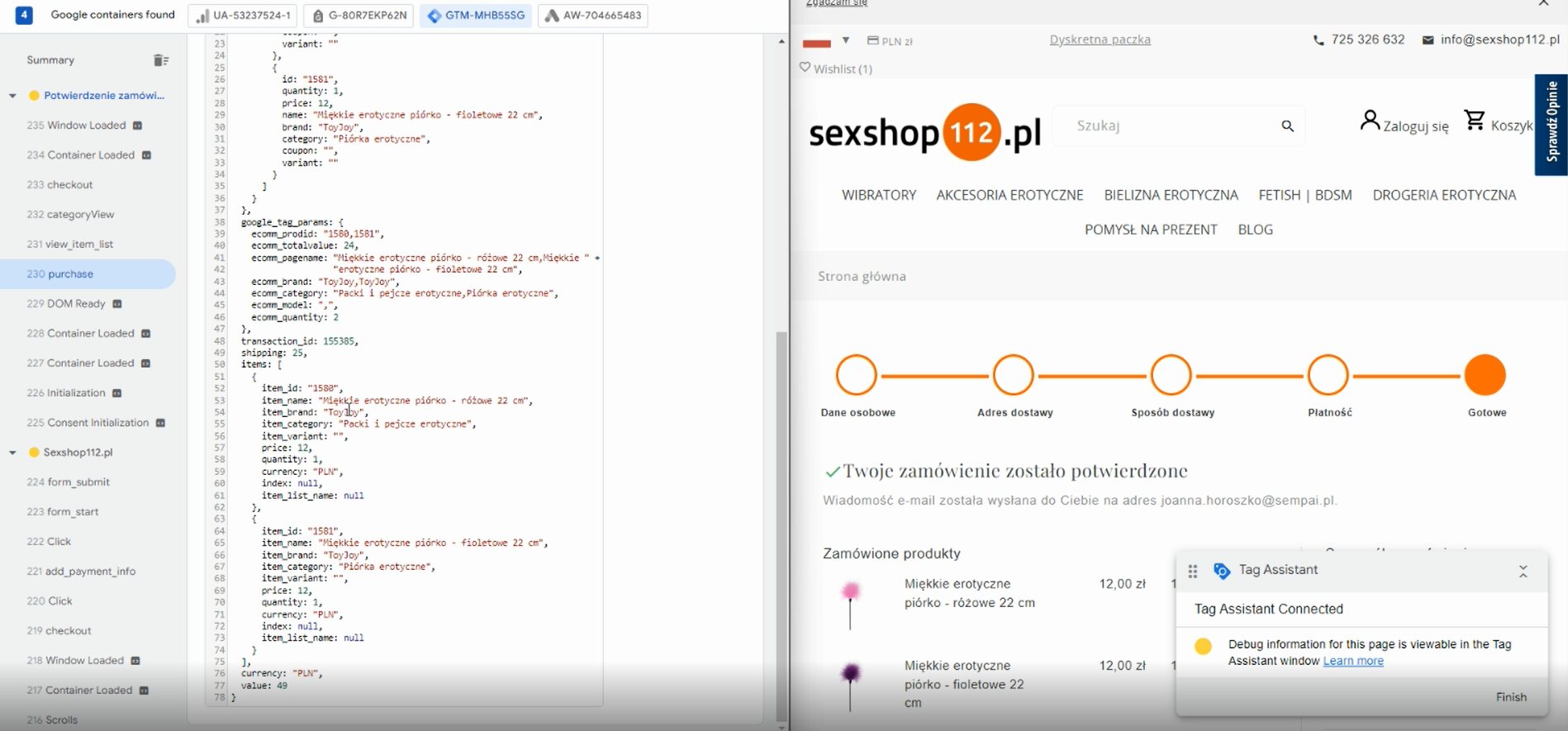 PrestaShop & Google Ads dynamic remarketing
Use the collected data to perform precise remarketing ads. Target ads to people who have visited your store or specific product pages. Display ads tailored to products from your store.
PrestaShop & Google Tag Manger
With the module you will integrate Google Tag Manger tool. The module includes a ready-made DataLayer tag package, which you will efficiently integrate all events in PrestaShop with Google tools.
Can you manage to configure PrestaShop and Analytics on your own?
If you are already using Google Analytics - it should not take you more than an hour to learn the module and configure all the options.
If you are just starting out and do not have a Google account - we encourage you to try it on your own. You can find tutorials online on how to set up a Google Gmail and Google Analytics account. When you set up our module, you will find detailed descriptions, prompts and videos for each function.
If you do not have time - order the module with the installation service and with the Google account configuration service. The service will be implemented in your store within 72h, Mon - Fri.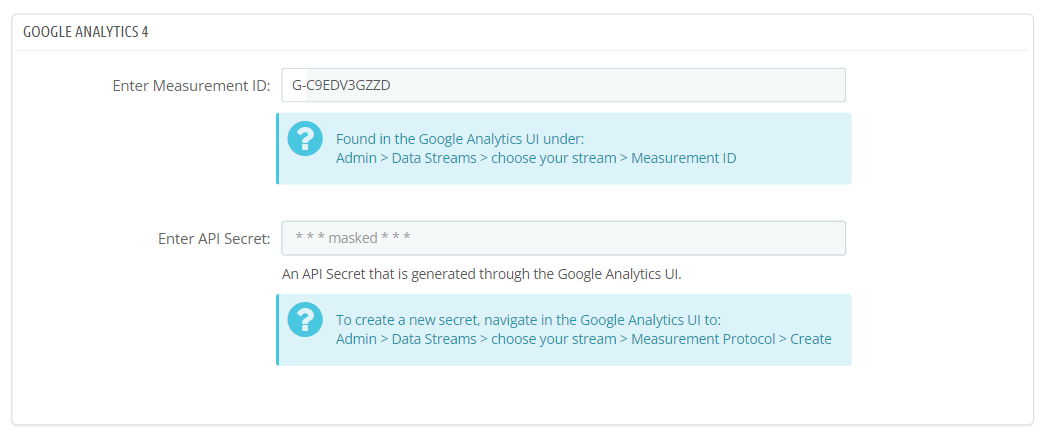 Precise input sources
The module examines and records the sources of entry based on server logs. Tracking 'live' customer traffic is handled by Google Analytics script. If the server does not indicate the source of traffic - the source of entry determined by Google will be passed to Google Analytics.
If a customer visits your store several times - you can specify which input source (first / last) will be sent to Google Analytics.
Set the time after which the input source will expire - when a customer visits your store after a long absence.
Skip any input sources - list the sources you want to omit from the statistics, such as bank pages.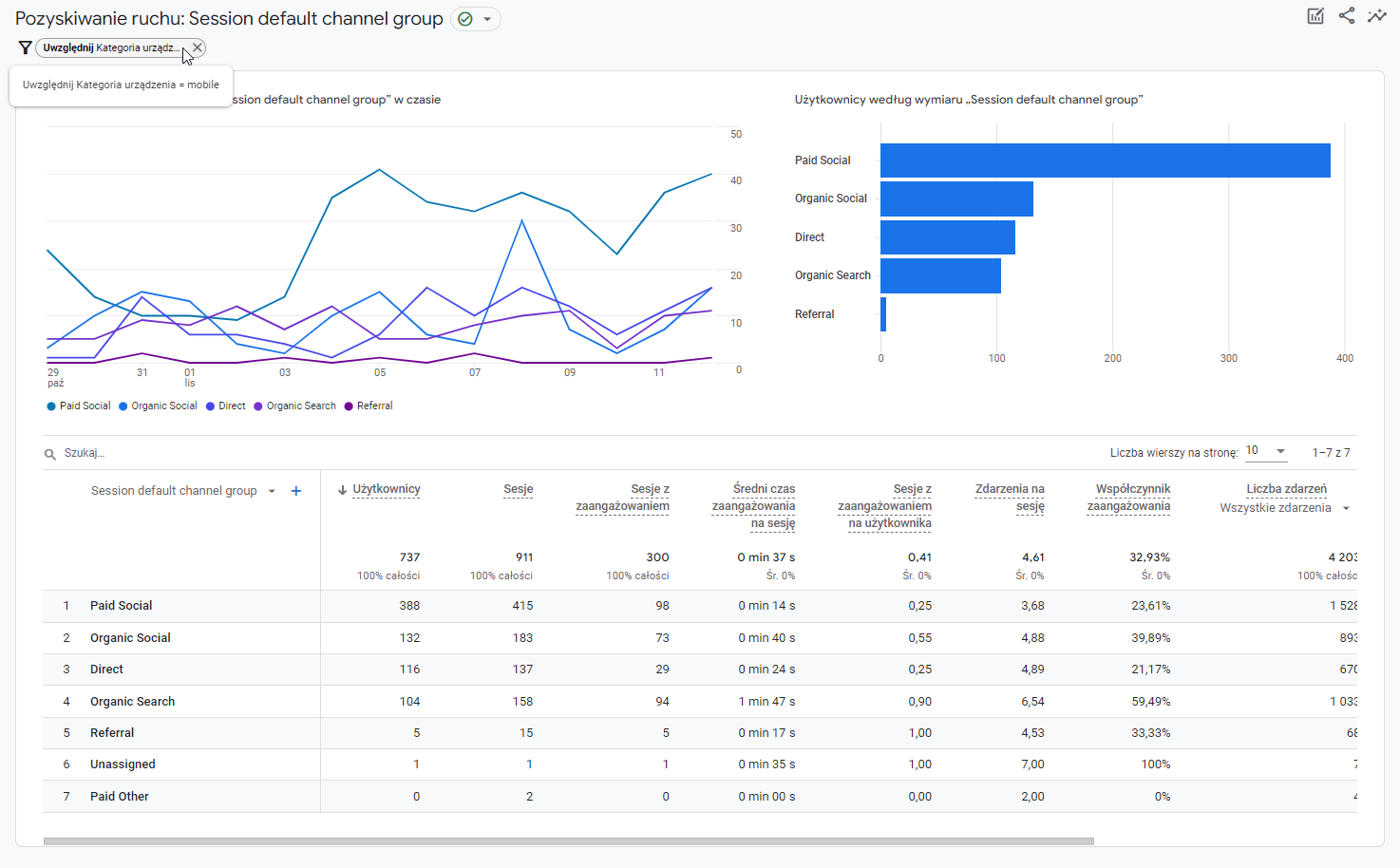 Amounts and currencies sent to Analytics
Set in the module whether to send turnover / income and net / gross values to Google Analytics.
The module supports all currencies enabled in your store - it sends to GA4 information about the currency in which the order was placed, e.g. EUR, PLN, etc. Conversion to the main currency of your account is handled by Google according to the current exchange rate.
100% conversion guarantee

The module will transmit each order from the store to your Google Analytics account with information about the customer, traffic source, products, prices, taxes and the path of arrival.
Indicate the order statuses for which conversion and order information will be sent from PrestaShop to your Google Analytics account. This will help you avoid sending unpaid orders.
The module supports all Polish and foreign payment methods available on the market, including bank transfer, check, payment on delivery, PayPal, CashBill, Przelewy24, PayU, PayLane, Bluemedia, Tpay, Polskie ePłatności, DotPay, Klarna, installment payments and many others.
The most important Google tools in one module
With the module you will integrate all Google analytics and advertising tools for online stores:
Google Analytics 4
Google Analytics UA
Google Tag Manager
Google Ads and remarketing
Enhanced Ecommerce and DataLayer
Google Optimize
Improved eCommerce events in Analytics
Take advantage of Google's latest analytics for online stores. The module supports DataLayer and events, so you'll be able to analyze:
Shopping behavior and store traffic
Behavior at fulfillment and transaction stages
Investigate the effectiveness of your store's offer and sales effectiveness
Study shopping paths on a single page and in multiple steps
The module supports and examines traffic order statistics for One Page Checkout (OPC) orders and in multiple steps. The OPC Supercheckout module is also supported. With the support of purchase paths, you will learn which elements of the order process generate rejections and decrease conversions in your store.
Analytics of old orders in PrestaShop
The module will allow you to send existing orders in your store to your Google Analytics account in bulk. These can be orders created before installing the module.
Analytics of orders outside PrestaShop
If the orders in your store are generated by other sources, such as ERP integration, Baselinker, Allegro, etc. - the module will detect them and send information about them to Google. You can also skip them.
Support for returns and transaction reversals
The module allows you to manually and automatically (based on any order status) remove order and conversion information from Google Analytics, e.g. in case of return or cancellation of sales.
Guaranteed sending of data to Google Analytics
On the order list, the module adds an interactive "Sent to Google Analytics" button, which is a reliable information based on Google API about whether the order went to Google Analytics. In the order details, you'll find a list with the sources of customer inputs, so you can see where customers come from when they make a purchase in your store.
Multistore support
PrestaShop Multistore support for this module is optional. With Multistore support, you can set up an independent connection to Google tools for each store separately or together for multiple stores.
Smart solutions
Thanks to cooperation with specialists in the analytics and advertising industry, we are constantly developing the module's capabilities with current market needs.
Uploading conversion information for old orders (existing in the store) is optional. It works automatically based on selected order statuses and manually.
Protection against double sending of transactions. The module controls the uploaded orders and will not allow double counting and uploading of this information in Google Analytics statistics.
The module logs all its activities to a log.txt file, so you can know the details of all interactions that occur between your customers, your store, the module and your Google Analytics account.
IP address anonymization in Analytics - support of the Personal Data Protection Act (RODO).
Technical requirements
Minimum requirements for all modules
PHP 7.1 or higher
ionCube server extension
Nginx or Apache server
MySQL >= 5 or MariaDB
PrestaShop Importer only: PHP libxml version > 2.9.3
PrestaShop Facebook Integrator only: PHP 7.2 or higher
Optional performance optimization extensions: mcrypt, openssl, zip, curl, gd, pdo, varnishd, mod_pagespeed, memcached, apc
You can read more about the requirements in the knowledge base.
Support and warranty
3-Months Free Technical Support
Along with the module, you get 3 months of technical support and access to updates. When the time expires you can continue to use the module. You can renew access to support and to the latest module versions at any time by purchasing any of the available packages. The package includes the entire domain and all modules assigned to the domain.
Knowledge Base - FAQ
Theknowledge base is free and open to all. In it you will find documentation of the modules and answers to frequently asked questions.
HelpDesk panel
HelpDesk is a convenient panel for communication, on which we provide help during the use of modules. On HelpDesk you will order any programming work and optimization of the store and server.
Module updates
Modules will inform you in your store about new updates. You will perform the update directly in your store with 1-click.
PrestaShow modules use license
PrestaShow modules use license
You can find the full content of the license on this page. We have described the operation of the license handling system on this page. Below is a summary of the most important information:
Domain and additional domains
You can assign the module after purchase to 1 store = 1 domain. You can use the module in the domain without time limits. You can add a test/developer store domain to each domain for free. Support for domains in PrestaShop Multistore requires the purchase of
multistore support
for the module.
Changing the domain
Changing the domain is possible. For this purpose, please contact us.
Code modification
The module code related to the integration with the store and the appearance (.tpl, .css) is open source and you can modify it freely. The module source is encrypted with ionCube.
Demo
Test in the demo store

You will find the link to the demo store of this module in the top section of the page
You can change the language of the demo store and the language of the module (EN, PL, DE, ES, IT, FR) using the top menu of the demo store
The demo will be automatically deleted after 48 hours
In case of any problems with demo store operation - please contact us