+ 3 months free support
BESTSELLER
PROMOTION
Service for 690 wholesalers from Poland and over 25.000 wholesalers from Europe and the World
Integrate your store with wholesalers, suppliers and manufacturers
No limitations on the number of integrations
Support for any XML or CSV format
Match any field from the file with any field in PrestaShop
Support for features, attributes, combination generation and specific pricing
Support to import to multiple stores in Multistore
Import multiple languages, currencies and exchange rates
Support for multiple warehouses with Advanced Inventory module
Mode to import, update, add new items and disable unavailable products
Automatic operation and queuing of multiple integrations - CRON and SSH
Data manipulation: category mapping, search and replace, skip products by conditions, and more
Possibility to connect to the wholesale API
PrestaShop: XML and CSV import
Standalone integration of the store with wholesale stores
prestashow.pl is the only official manufacturer and distributor of the module.
Independence
The module is designed to allow you to integrate your store with wholesalers, suppliers and any XML and CSV feeds. The module will connect for you with local and remote product feeds in XML and CSV files. Select the data you want to transfer, run the import and enjoy the flow of information between the wholesaler and your PrestaShop store.
Speed
Independently integrate your PrestaShop store with wholesalers, suppliers and your own product feeds. Connecting another wholesaler can take a few moments - upload a file, select the data you want to import and start importing. Once integrated wholesaler works unattended. The module downloads current data and updates product catalog in your store on its own. You can modify the settings of each feed at any time: add, skip and modify data from the feed before it gets to the store.
Flexibility
The module doesn't limit your creativity in importing assortment. You can specify the data to be imported and rely on full automation or perform advanced operations on the data. PShowImproter allows you to import selected manufacturers, map and skip categories, convert exchange rates, calculate markup, combine and edit product information, import conditions for arbitrary values, multi-store, multi-warehouse, import attributes and generate combinations, search and replace data, and much more...
100% satisfaction guarantee
Update and add products from all wholesalers in the world (including 690 wholesalers in Poland)
Import data from any CSV and XML files
Use file queuing and CRON to perform automatic integration with multiple wholesalers at once
Import to many Multistore stores and many warehouses at the same time
The module detects your modifications and changes in the warehouse and intelligently updates the data in the store
Order in the product catalog
The module integrates feeds as well as XML and CSV files, assigning wholesalers to imported products at the same time, which ensures order in your data. It also allows you to integrate the same file several times, e.g. first complete import and then repeat the operation, e.g. to update only the prices and stocks. You can also import the same product from multiple suppliers or skip importing selected products if you don't want to have them in your offer.
Our module is a flexible solution that you can adapt to any need
We guarantee that after an hour spent with the module, you will be importing and updating data in your store on your own. During the use of the module you will discover many functionalities that will allow you to manage the product catalog more efficiently than before. For those who value their time, we offer full HelpDesk support related to the module operation and wholesale warehouse configuration. The cost of configuring any warehouse by our team is 100 PLN net / file.
Watch the video presenting the basic capabilities of the module (PL, EN and FR subtitles available on YouTube):
Integration with warehouses in 5 steps
Once a file is configured with our import manager, it starts updating data in your store. Each configuration can be edited, duplicated or disabled at any time. Don't worry about the effects of performed operations - the module's work log will inform you about successful imports or the occurrence of errors. The module will guide you through the process of adding, configuring and importing data in 5 steps:
List your integrations. Add and manage XML and CSV product feeds from your suppliers.
Assign tasks. Define what operations you want the module to perform. Its tasks include importing, updating, adding new products and deactivating unavailable products. In this step you will also adjust import language, multistore and other global settings.
Configure data. Decide which data from the file you want to transfer to the store, and then adjust them to your needs, omit them or use the default settings.
Personalize Import. In this step, you'll gain access to advanced settings. Skip manufacturers, map categories, set import conditions, and add, search, and change data.
Finalize integration. Start the import manually or fully automatically. You can stop the process at any time and return to it later. You can use the module to run imports and updates using CRON, SSH and multi-file queuing.
For more on the 5-step import builder, please read our knowledge base.
Work with multiple wholesalers
Integrating with multiple wholesalers can result in duplicate products that are available from multiple wholesalers simultaneously. A module from PrestaShow solves this problem.
You can configure an independent CRON for each feed.
The PrestaShow importer allows you to assign products to a specific wholesaler. The effect you get is no overwriting or duplication. Your assortment starts to be updated by e.g. wholesalers who offer the product at the lowest price.
You can also use importing specific suppliers, thanks to which you will keep order while integrating with many wholesalers.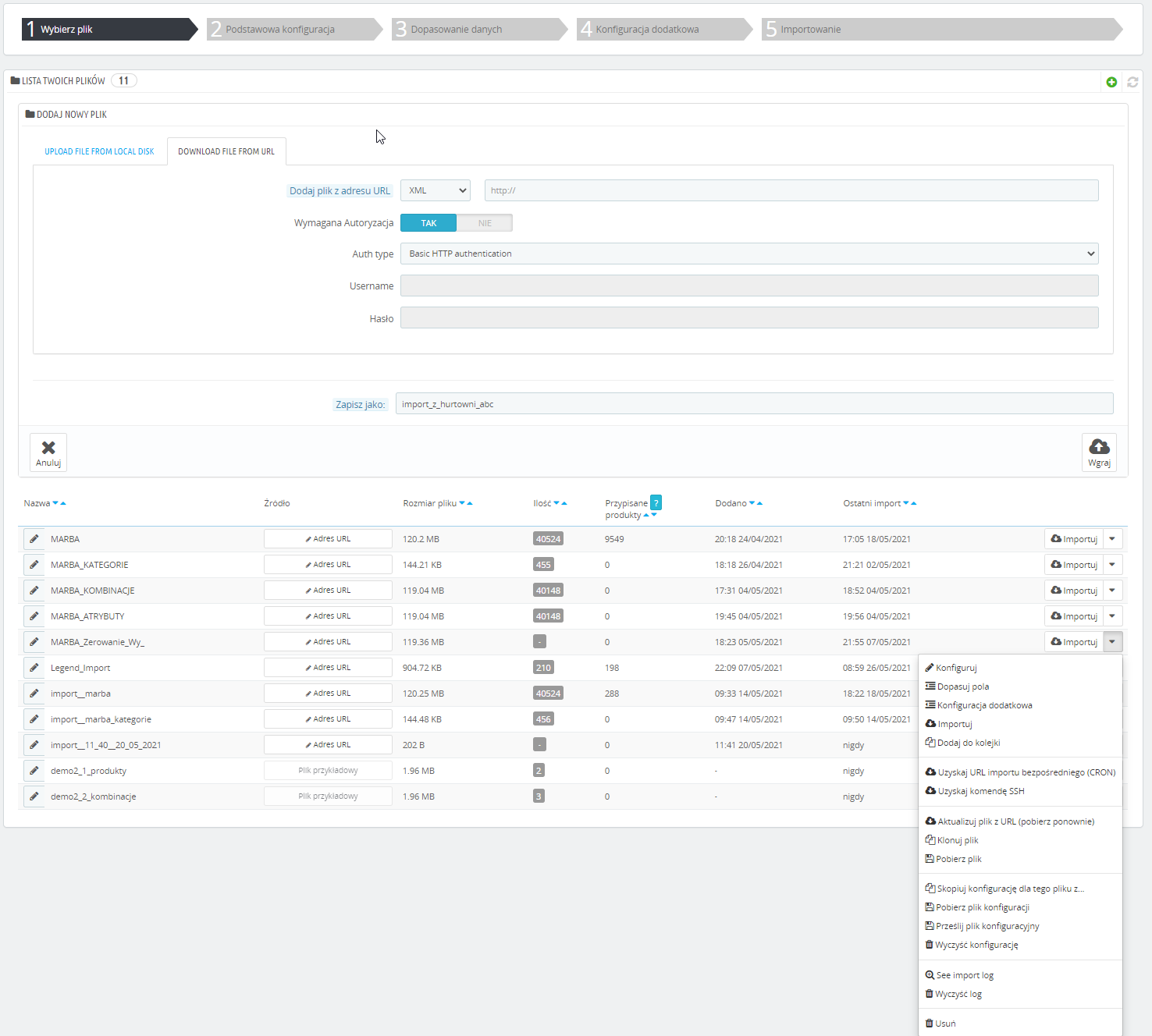 Queuing files - a way to import
The module introduces the convenience of queuing files for import. Files configured by you, are imported one by one, according to settings for each of them. This allows you to integrate and update data with multiple warehouses without involving you in the process.
With Import from PrestaShow, you configure one import that replaces many manual operations. This way, you personalize your assortment, save time, and don't burden your server.
Import all product information into PrestaShop
The import and update mode includes all the product catalog and category data, which you can automate with our module. Start working conveniently with features such as:
Markup support for all price types. You can import net, gross, unit, specific and purchase price. For each price, you can set a markup with price ranges, e.g.: for net price 10-15 PLN charge 10% and for 15-50 PLN charge 4% markup. To perform more interesting and automating operations on prices, check out the Price Mastermodule - intelligent price management.
Supplier support. Import and update the same item from multiple suppliers. With the PrestaShow importer you will be able to take advantage of all the features available in PrestaShop;
Specific pricing. Automate adding and updating specific prices. PShowImporter allows you to transfer all fields related to Specific Prices;
Features, Attributes, and Combination Generation. Generate combinations based on the attributes in the file. The Importer will do this automatically. You do not need to use additional modules and combination generator for this purpose.
Fill in the missing data
Are your XML and CSV files missing data? With the module, imported or updated products can be supplemented with manually added values.
For example, create a field with the content "SONY" and adjust it as "Manufacturer Name" or "Feature: Manufacturer". The importer will add the above information to all products as if they were in the imported XML or CSV feed.
The module gives you the freedom to modify your files. You can combine multiple fields into one, e.g. "Manufacturer + Name + Trait: Color" = "Product Name ". You can use the "Search and Replace" option, which will allow you to replace any phrases with those that will be better used for e.g. positioning or marking your brand.
Efficiency and time saving
The module solves irregularities during integration on the fly. Technologies that we have used, recognize and fix for you errors that appear in XML and CSV feeds.
The specifics of your infrastructure will be fully utilized. The module exploits the potential and RAM of multiprocessor servers, thus supporting small and very large XML files.
PShowImporter works with FTP and VPS servers, dedicated machines and data clouds (Google Cloud, Azure, AWS). Leverage the capabilities of your infrastructure. Server performance is enhanced by the speed of data import and update. Read the REQUIREMENTS tab to learn about the necessary configuration of the hosting on which you want to run our module.
CRON and SSH
The module handles the data import and update, relieving you from having to manually run and supervise the imports. PShowImprorter will perform the scheduled operations on a fixed day and time. Each configured file can receive its own direct CRON import link.
For example, if you are performing an integration with multiple wholesalers, you can queue the files. With the queue, they will run one by one, and you can run only one link responsible for the queue in the CRON configuration.
Other sales platforms
If you want to integrate with product catalogs from another store or migrate another PrestaShop store to your PrestaShop store, you can use Feeder. With the Feeder module you can export products from PrestaShop to XML files and then import them using the Import Manager.
Instant integration between two PrestaShop stores
Import Manager fully integrates with Feeder module to provide instant two-way integration between PrestaShop 1.5, 1.6 and 1.7 stores.
PrestaShop Integration with Wholesale API
PShowImporter has a feature to integrate PrestaShop with wholesaler APIs. If your wholesaler only provides products through the API, we can prepare a connection that will pass the products from the API to PShowImporter, which will import them according to your settings into PrestaShop.
In order for us to quote for API integration please prepare:
API documentation of the wholesaler (the wholesaler should provide it e.g. in PDF format)
Access to the test API account
Then write us an email - you can use the Contact tab.
Multistore support
PrestaShop Multistore is a single admin panel for multiple stores. Multistore is a standard feature of PrestaShop 1.5, 1.6 and 1.7 and you can enable it in your admin panel.
Using our module you can import and update products in multiple Multistore stores. The importer will allow you to perform operations on all or selected stores.
Multistore support by the Importer module is optional and extra paid. Depending on your needs, you can buy Importer with Multistore support right away or buy it later, at any time.
Note: If Multistore is enabled in your store, Multistore support is required for the module to function properly.
Advanced Stock Support
Advanced Stock is a standard PrestaShop 1.6 feature that you can enable in your store settings.
PrestaShop developers removed the Advanced Stores feature in PrestaShop 1.7, so we at PrestaShow created the Advanced Stores module for PrestaShop 1.7. PShowAdvancedStocks functionality allows you to manage a warehouse or multiple warehouses in great detail: movements, coverage, replenishment. Advanced Stores will also allow you to interact with your customers in a new way, for example by displaying product availability in stationary stores or pickup points on the product page.
If you are using the default Advanced Stores in your PS 1.6 store, or if you are using our PShowAdvancedStocks module in PS 1.7, an add-on that supports importing to multiple stores is essential for the proper functioning of the Importer Module.
You can purchase support for importing to Advanced Stores right away with the importer or at any future time.
Import Workflow Log
Organize data and review file errors. The Importer log records all actions taken by the module. It also reports errors and omissions during the integration. The log is generated each time you run an import or update. You can view it during import or as a txt file on the server.
Free PrestaShop Modifications
In the module settings you can enable features not available in PrestaShop that will help you conveniently integrate with each wholesaler and supplier:
The combination price is the total price of the product (and not an influence on the product price)
Additional field "Combination description" - the customer after changing the combination sees its individual description.
Additional fields "Combination dimensions: length, width, depth, weight"
Show update date on product page - use the date to assure customers that inventory is up to date
Automatic Technical Break during import
Take a closer look at how the module works
In the Knowledge Base, we've outlined the 5-step importer builder and its most important features, along with screenshots.
If the functionality of the module seems complicated to you, you will find the answer to most of your questions in our knowledge base: https://helpdesk.prestashow.pl/kb/faq.php?cid=1.
Importing data into PrestaShop
The Importer allows you to import over 150 interactive fields from XML feeds, CSV and API integrations into your PrestaShop store. The fields you can import and update are described in the Knowledge Base HelpDesk.
We are continually improving the list of features in the Importer
The functionality of Import Manager reflects the needs of our customers operating in the eCommerce market. We are confident that our module is ahead of all solutions on the market and sets new directions in the automation of processes that drive the eCommerce industry. If the module does not have an important feature for you open a HelpDesk ticket.
Technical requirements
Minimum requirements for all modules
PHP version 7.1 minimum
ionCube server extension
Nginx or Apache server
MySQL >= 5
PrestaShop Importer only: PHP libxml version > 2.9.3
PrestaShop Facebook Integrator only: PHP 7.2 or higher
Optional performance optimization extensions: mcrypt, openssl, zip, curl, gd, pdo, varnishd, mod_pagespeed, memcached, apc
You can read more about the requirements and their benefits in our knowledge base.
Support and warranty
Benefits of having active technical support
Along with the module, you receive a warranty in the form of 3-month technical support and access to module updates. After expiration, you can continue to use the modules you bought. You can renew technical support and access to updates at any time by purchasing any of the available packages. Support covers all modules in your account.
Knowledge Base (FAQ)
Theknowledge base is located on HelpDesk, it is free and open to everyone.
HelpDesk Help
Convenient panel with email notifications

Help with installation, configuration and module performance guarantee for your store




Ask questions and report problems, which will always be solved (57% of requests we complete < 24h)

Order paid expansion and customization of modules to meet your needs

Order any programming and optimization work for your store and server
Module updates
Modules will inform you about available updates

You will update a module with 1 click in the module

The module will backup its files before updating. In case of problems you can restore the previous version and open a ticket on HelpDesk
PrestaShow Module Use License
Please visit this page for detailed license information. Below you will find the most important information regarding our modules and licenses:
You can use a module for unlimited time per store: 1 module = 1 license = 1 domain.
You can also use the module in the test store: dev.domena.pl, test.domena.pl, beta.domena.pl.
Changing the domain for a license is possible. For this purpose, please contact us at kontakt@prestashow.pl.
You can modify the source code of the modules in tpl and css files. Modification of module's engine (core) will result in loss of warranty.
Demo
Test in the demo store

You can change the language of the demo store (PL, EN, DE, ES, IT, FR) using the top menu of the demo store
Demo will be automatically deleted after 48 hours
If you have any problems with the operation of the demo store - contact us
You will find the link to the demo store of this module in the top section of the page
Brak powiązanych wpisów blogowych.
PRESTASHOW - THE PLACE WHERE ECOMMERCE HAPPENS
© 2014-2022