+ 3 months free support
NEW
Professional translation in 27 languages
Translation of the template, database and modules in your PrestaShop store
Mass translation of all or designated elements
Automatic translation after changing individual content
Accurate context and highest translation quality thanks to neural networks DeepL
Professional PrestaShop store translation
The module for translating your store uses the best cloud solutions combined with the best translator in the world DeepL.
Run your store in one language
PrestaShop Translator will take care of the rest
The module adds a small, interactive button next to each field on the content: "Translate to other languages". You'll save time and never forget to translate changes to currently edited content.

Instant PrestaShop translation in 27 languages
At PrestaShow, we tested 6 commonly available translators before deciding on a translation engine. We chose DeepL for its translation quality and context selection, DeepL API capabilities and low price.
"The website DeepL was founded by Jaroslaw Kutylowski. Since its international launch in August 2017, Translator DeepL has been breaking quality records in the field of machine translation and allows you to use the full power of neural network technology DeepL"

"The goal of DeepL is to use neural networks to expand human capabilities, overcome language barriers and bring cultures together."

Massively translate everything
what there is to translate in your store
After installing the module, start mass translating the content in your store. The translations take into account the text formatting and HTML code found in product descriptions, CMS pages, blog posts, etc.
Indicate the store elements you want to translate, select the source and target languages. Done. A module in the background will translate all the content you indicate:
Phrases in the template
Content in installed modules, such as blogs, etc.
Phrases in files and in the database
Content of categories, features, attributes, combinations, products, including tags friendly URLs, SEO, names and others....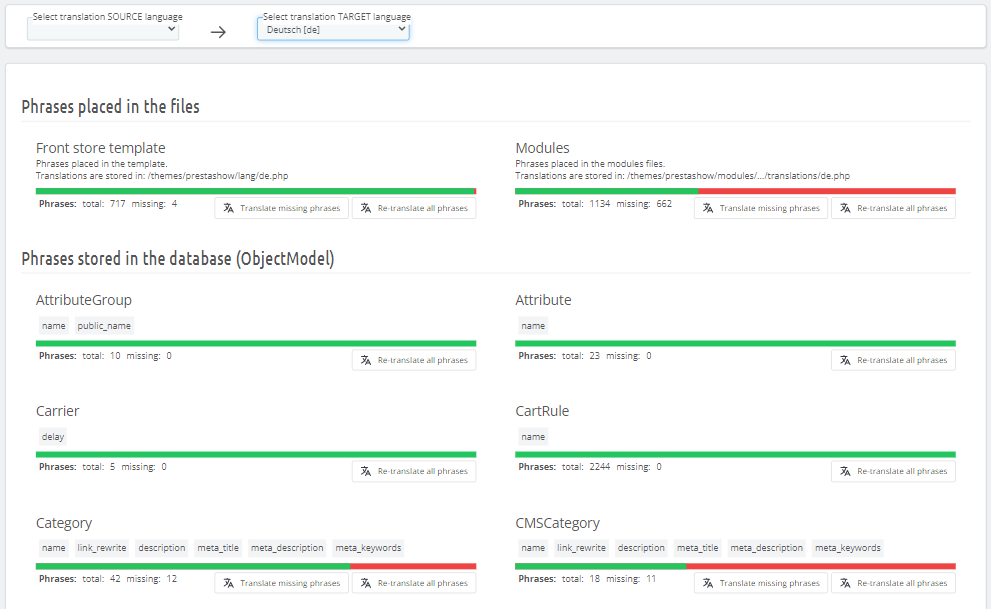 Indicate the content whose translation you want to skip
The module will allow you to translate all or only the indicated content in your PrestaShop store.
You can skip the translation of already translated content
If you want to manually translate, for example, product names and friendly URLs, you can skip their mass translation
You can exclude content at the creation or editing stage. Embrace the content with translate="no" tag or class="notranslate" (as in CSS). You can use this to omit proper names or quotes.

How to get started.
Add an additional language in PrestaShop
If you want to start another language in your store:
Enable additional languages in PrestaShop's localization settings, and import country-specific settings (date format, taxes, etc.).
Go to the PrestaShop Translator module and indicate the source languages from which you want to get translations and the target language (e.g. Polish -> Czech).
Indicate the elements you want to translate in bulk, e.g. modules, CMS pages, product and category information, blog posts, etc.
Click TRANSLATE - the module in the background will translate the phrases in your store and inform you about the progress with an accurate logo.
When you translate all elements of the store, and then you want to edit the description of some product - you can use the option to translate the field you are currently editing. Such translation is done almost instantly and without reloading the page - when you get the message "Success" save the edited product to save your changes and their translation.
Price according to consumption
Translator DeepL in the free version allows you to translate 500,000 characters per month.
The module is ready to use immediately after installation in your store, and the free package renews automatically every month. If you would like to translate more than half a million free characters per month, create an account at DeepL and choose any character package.
After creating an account at DeepL, you will receive an API KEY, which you need to enter in the module:

For example - all content on this page is about 10,000 characters (including spaces and HTML code), and all content in our entire store is about half a million characters.
Note
We recommend that you make a copy of the store before you run the first translation or learn how to use the module on a developer copy of the store.
Technical requirements
Minimum requirements for all modules
PHP version 7.1 minimum
ionCube server extension
Nginx or Apache server
MySQL >= 5
PrestaShop Importer only: PHP libxml version > 2.9.3
PrestaShop Facebook Integrator only: PHP 7.2 or higher
Optional performance optimization extensions: mcrypt, openssl, zip, curl, gd, pdo, varnishd, mod_pagespeed, memcached, apc
You can read more about the requirements and their benefits in our knowledge base.
Support and warranty
Benefits of having active technical support
Along with the module, you receive a warranty in the form of 3-month technical support and access to module updates. After expiration, you can continue to use the modules you bought. You can renew technical support and access to updates at any time by purchasing any of the available packages. Support covers all modules in your account.
Knowledge Base (FAQ)
Theknowledge base is located on HelpDesk, it is free and open to everyone.
HelpDesk Help
Convenient panel with email notifications

Help with installation, configuration and module performance guarantee for your store




Ask questions and report problems, which will always be solved (57% of requests we complete < 24h)

Order paid expansion and customization of modules to meet your needs

Order any programming and optimization work for your store and server
Module updates
Modules will inform you about available updates

You will update a module with 1 click in the module

The module will backup its files before updating. In case of problems you can restore the previous version and open a ticket on HelpDesk
PrestaShow Module Use License
Please visit this page for detailed license information. Below you will find the most important information regarding our modules and licenses:
You can use a module for unlimited time per store: 1 module = 1 license = 1 domain.
You can also use the module in the test store: dev.domena.pl, test.domena.pl, beta.domena.pl.
Changing the domain for a license is possible. For this purpose, please contact us at kontakt@prestashow.pl.
You can modify the source code of the modules in tpl and css files. Modification of module's engine (core) will result in loss of warranty.
Demo
Test in the demo store

You can change the language of the demo store (PL, EN, DE, ES, IT, FR) using the top menu of the demo store
Demo will be automatically deleted after 48 hours
If you have any problems with the operation of the demo store - contact us
You will find the link to the demo store of this module in the top section of the page
PRESTASHOW - THE PLACE WHERE ECOMMERCE HAPPENS
© 2014-2022