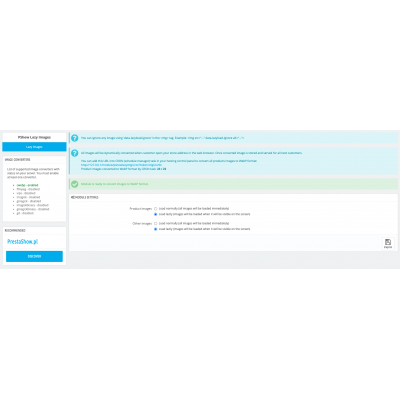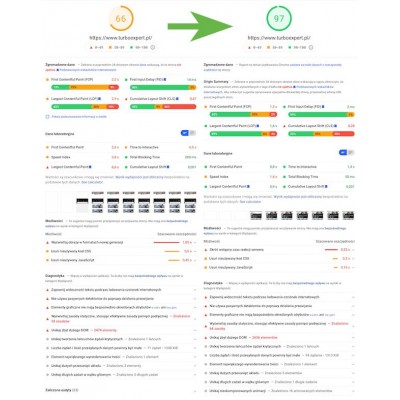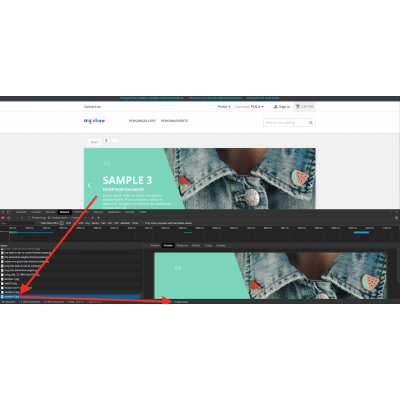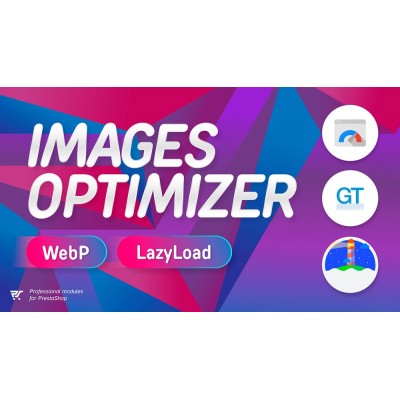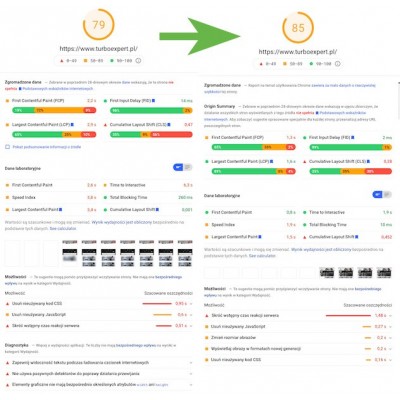 PrestaShop Images Optimizer - WebP & Lazy Load
Translations: EN, PL
Reference: pshowlazyimg
Not handle server resources and run in background
Higher results in Google Page Speed, Lighthouse and GTMetrix
Reduce time to full website interactivity
Convert photos to lightweight WebP format by up to 85% lighter!
Speed up the loading of the mobile page by up to +20 points!
Optimization of all store images - galleries, blogs, CMS pages, banners and in product descriptions
Compliant with SEO standards and Google Guidelines
PrestaShop & WebP
WebP is an image compression format developed by Google. WebP with a smaller size up to 85% maintains comparable image quality with the JPEG format. This format is promoted by Google and is increasingly used on the Internet. By using the WebP format you will achieve higher results in Google Page Speed, Lighthouse and GTMetrix.
Convert product photos to WebP format
Our module will optimize all graphics in your store. This will have a positive effect on the loading speed, server performance, results in performance tests and user experience while surfing your store.
We used (2021) latest available technologies to optimize photos for the internet browsers. Our module will save a huge amount of data, will not overload your server and will shorten the load time on mobile devices and computers.
The module converts to WebP all photos in your store:
Product photos, photos on product lists and product descriptions
Pictures on CMS pages, home page, contact page, etc.
Photos displayed by external modules such as blogs, albums and galleries, banners and sliders.
Module will start generating graphics in the WebP format in the background when they are first loaded by your customers' browsers. Thanks to this, the module does not overload server with long-term operations in the process of generating WebP and during their future use.
All new photos you upload in JPEG or PNG will be converted to WebP on the fly.
All photos already in your store will be converted to WebP on they first load.
The module detects newly added products, changes in products photos and deletion of photos and takes care of order in the graphics files on the server.
PrestaShop & Lazy Load
To shorten the time to full interactivity of the webstore, you can turn on the Lazy Load function. This ensures that all key photos and images will be loaded first, and then images outside of the visible screen. The images will not be loaded until the user starts scrolling the page. Thanks to this, you will increase the speed to full interactivity and reduce data transmission for mobile devices with an internet limit or a slow connection.
Thanks to Lazy Load, the server will not load items that customer will not want to see, and this will directly affect the store's performance and the speed of its loading.
While loading, the image storage objects keep their original size
The module does not generate page jumps while it is loading
SEO friendly
Your pictures are 100% visible to web robots. URL links to photos and images are still in the code of the page. Our module has been prepared in accordance with good SEO practices according to Google guidelines, thanks to which it actually speeds up the operation of the store and relieves the server. The module will positively affect the test results of your store in Google Page Speed, Lighthouse and GTMetrix.
Install and use
Install the module and enable conversions to WebP and Lazy Load formats. The module does not require complicated configuration. We have fully automated the operation of solutions optimizing graphics and photos for eCommerce.
Maximum acceleration thanks to modern solutions
We guarantee that PrestaShow Images Optimizer will help you to relieve your server and improve your store speed in performance tests.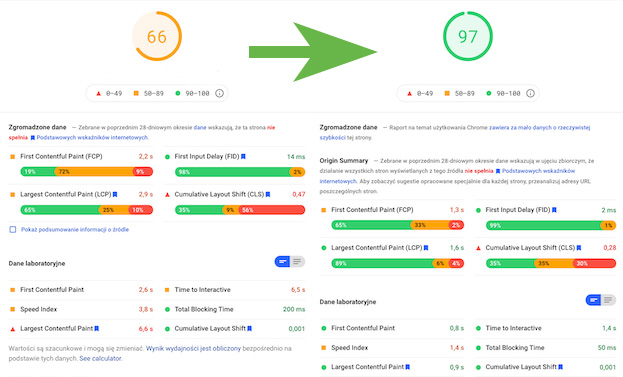 Rys. 1 Results proof for Google Page Speed Desktop test after module installation. The results achieved depend on many variables, including server performance and load, as well as the optimization of the core and PrestaShop modules.
Server library for handling WebP. In order for conversion to WebP format, module to work as quickly as possible need one of the following extensions to be installed on your server. Make sure your hosting supports any of these:
cwebp
ffmpeg
vips
imagick
gmagick
imagickbinary
gmagickbinary
gd
Type of server. The module works with any Apache server. To support other web servers (e.g. nginx), you should translate commands in the .htaccess file generated by our module and adjust them to the configuration of your server. You can order this service after purchasing the module by opening a request at helpdesk.prestashow.pl (50 EUR net)
Additional requirements. The module requires Friendly URLs enabled to work.
WebP is supported by the following browsers: Google Chrome, Firefox, Opera, Edge, GNOME Web, Midori, Falkon, Pale Moon and Waterfox.
If the client's browser does not support the WebP format, the module will display original jpeg / png images.
CloudFlare making no problems in cooperation with our module.
In the photo gallery you will find a comparison of Google Page Speed ​​results before and after module installation.
PSHOW LAZYIMG CHANGELOG
==========
v2.8 - 2021.10.13
-----
* fixes for old browsers which do not support webp format
v2.7 - 2021.05.10
-----
* you can set whether the module should use
Technical requirements
PHP in version minimum 7.1. We recommend PHP 7.3 for maximum performance and security
IonCube extension
Nginx or Apache server
MySQL > = 5
Optional extensions for performance optimization: mcrypt, openssl, zip, curl, gd, pdo, varnishd, mod_pagespeed, memcached, apc
PShowImporter module only: required PHP extension libxml in version > 2.9.3
PShowFacebookIntegrator module only: PHP 7.2 for Facebook API support
More about requirements and benefits from it you could read in our Knowledge Base.
Technical support that works
Together with the module, you get 3-month access to support and updates. If your support period expires, you will be able to continue using the module. You can reactivate access to support and updates at any time - see available packages.
Support helpdesk.prestashow.pl
Help in installing and using our modules.
Guarantee of correct operation of the module in your store.
Possibility of paid extension and adaptation of modules to your needs.
On HelpDesk you can order any programming and optimization work for your store and server.
Additional works are priced in advance and implemented due the agreed date.
We process 67% of HelpDesk requests in less than 24 hours.
Modules updates
The latest solutions and security fixes.
Work with the latest version of PrestaShop and PHP.
The modules will inform you about available updates and news in back-office.
You can update the module with 1-click.
Before updating, the module backup its files. In case of any problems, you can quickly restore previous version of module and contact us for help.
License to use PrestaShow modules
Detailed information about the licenses of our modules you will find on this page. Below we describe the most important information regarding the use of our modules and license:
You can use the module without any time limits in one store: 1 module = 1 license = 1 domain.
You can assign the module to the domain yourself after logging in to My Account in our store
You can also use the module in the test store: dev.domain.com, test.domain.com or beta.domain.com.
It is possible to change the domain for your license. For this purpose, please contact us at kontakt@prestashow.pl
You can modify the source code of the modules in tpl and css files. Modification of the engine (core) of the module is associated with the loss of warranty.
You can restore the warranty by installing the unmodified version of the module downloaded from My Account.
Demo
You could test module in our demo store (link in

upper section

)
Some of our modules have demo-content installer
If demo content installer is unavailable please remember to configure module first
You could change demo language in demo store top-menu
Demo store will be automatically deleted after 48 hours
In case of problems with demo - please contact us

Brak powiązanych wpisów blogowych.