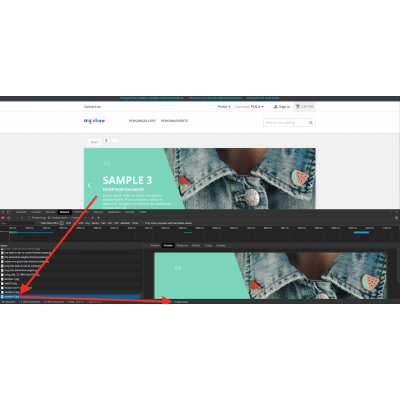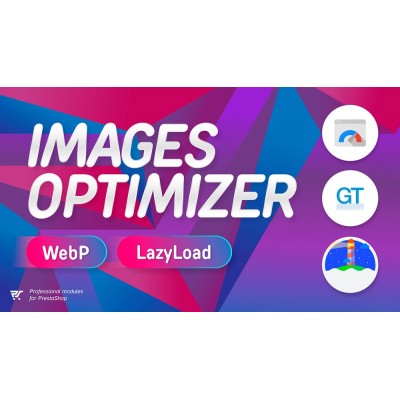 PrestaShop Images Optimizer - WebP & Lazy Load
Optimization of photo loading speed and website weight
Convert photos to a light WebP format
Google Page Speed, Lighthouse and GTMetrix score improvement
Acceleration of loading the mobile page
Optimization of all photos on the site - galleries, blogs, CMS pages, photos in descriptions
Compliant with SEO standards and Google guidelines
PrestaShop & WebP
WebP is an image compression format developed by Google. WebP with a smaller size up to 85% maintains comparable image quality with the JPEG format. This format is promoted by Google and is increasingly used on the Internet. By using the WebP format you will achieve higher results in Google Page Speed, Lighthouse and GTMetrix.
WebP is supported by the following browsers: Google Chrome, Firefox, Opera, Edge, GNOME Web, Midori, Falkon, Pale Moon and Waterfox. If the client browser does not support the WebP format - the jpeg / png image will be loaded.
For the conversion to WebP to work, any of the following methods must be installed on your server:
webp (PHP exec() must be enabled)
imagick (uses Imagick PHP extension)
gmagick (uses Gmagick PHP extension)
imagemagick (PHP exec() must be enabled)
graphicsmagick (PHP exec() must be enabled)
gd (uses Gd PHP extension)
Convert product images to WebP format
Increase store loading speed by converting photos to WebP format. Optimize product photos, categories images, images in product descriptions and on CMS pages. The conversion will also include images displayed by blog, galleries and any other modules. Reduce the loading time of the store on mobile devices and increase the SEO result!
Install and use
Just install the module and enable WebP format conversions. All photos in your store that you upload in JPEG or PNG will be converted on the fly to the WebP format. Photos existing in your shop will be also converted to WebP! This will save a lot of data, will not load the server and will reduce the loading time of the store to a minimum.
PrestaShop & Lazy Load
Lazy Load is based on a technique that downloads images thats are currently in the browser window. All other images are replaced with the "placeholder image". The target images will be loaded as soon as the user browses them by scrolling the page. This will increase the page speed and reduce data transmission for mobile devices with limited internet or poor coverage.
Lazy Load is SEO friendly
Your images will be visible to web robots. The URL link to photos and images are still in the page source code. Our module has been prepared in accordance with good SEO practices according to Google and will positively influence the results of Google Page Speed, Lighthouse and GTMetrix tests of your PrestaShop store.
Install and use
All you have to do is install the module and choose a replacement effect for loading the images. The module will do the rest for you.
PSHOW LAZYIMG CHANGELOG
==========

pre-release
-----
* prevent w3c errors

v2.5 - 2020.03.27
-----
* fixed bugs

v2.4 - 2020.03.27
-----
* improved WebP conversion
* fixed bugs

v2.3 - 2020.03.12
-----
* from now module support converting images to WebP format on-the-fly

v2.2 - 2019.07.25
-----
* in case of error, try to lazy load without placeholder

v2.1 - 2019.07.24
-----
* improved placeholder generator
* errors will be logged in /var/logs/*_pshowlazyimg.log
* other small fixes

v2.0 - 2019.07.18
-----
* changed way of loading images

v1.14 - 2019.03.08
-----
* fixed a problem with replacing urls for photos with null
* fixed a problem with update of module

v1.13 - 2019.01.29
-----
* bugs fixes

v1.12 - 2019.01.18
-----
* shop logo as default loading image
* fix for dynamically loaded content

v1.11 - 2019.01.02
-----
* bugs fixes

v1.1 - 2019.01.01
-----
* simplificated photos uploading
* added translations
* added the ability to upload own loading pictures
* bugs fixes

v1.0
-----
* first version of the module

Technical support that works
Together with the module, you get 3-month access to support and updates. If your support period expires, you will be able to continue using the module. You can reactivate access to support and updates at any time - see available packages.
Support helpdesk.prestashow.pl
Help in installing and using our modules.
Guarantee of correct operation of the module in your store.
Possibility of paid extension and adaptation of modules to your needs.
On HelpDesk you can order any programming and optimization work for your store and server.
Additional works are priced in advance and implemented due the agreed date.
We process 67% of HelpDesk requests in less than 24 hours.
Modules updates
The latest solutions and security fixes.
Work with the latest version of PrestaShop and PHP.
The modules will inform you about available updates and news in back-office.
You can update the module with 1-click.
Before updating, the module backup its files. In case of any problems, you can quickly restore previous version of module and contact us for help.
Module demo
Let's test our modules with no limits at demo.presta.show
You could change demo languange using top menu in demo
Your demo will be deleted automaticaly after 48h after your last activity
Before you go to demo, please check module Reference Code at the top of this page (e.g. PShowImporter)
Module demo is here: https://demo.presta.show/
License to use PrestaShow modules
Detailed information about the licenses of our modules you will find on this page. Below we describe the most important information regarding the use of our modules and license:
You can use the module without any time limits in one store: 1 module = 1 license = 1 domain.
You can assign the module to the domain yourself after logging in to My Account in our store
You can also use the module in the test store: dev.domain.com, test.domain.com or beta.domain.com.
It is possible to change the domain for your license. For this purpose, please contact us at kontakt@prestashow.pl
You can modify the source code of the modules in tpl and css files. Modification of the engine (core) of the module is associated with the loss of warranty.
You can restore the warranty by installing the unmodified version of the module downloaded from My Account.
seo, images, lazyload, prestashop., optimize