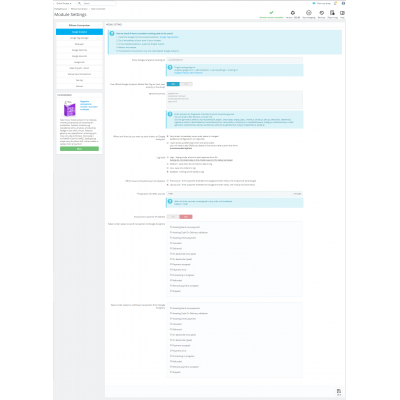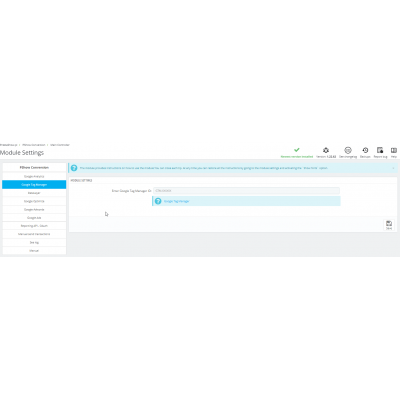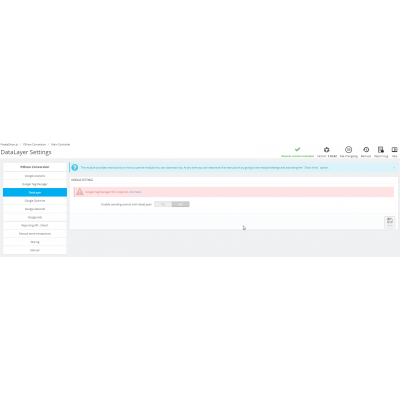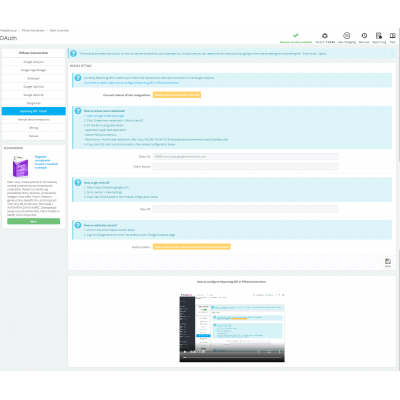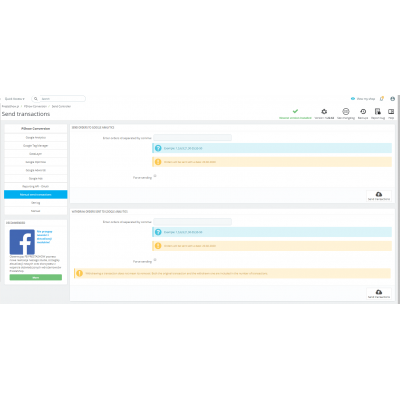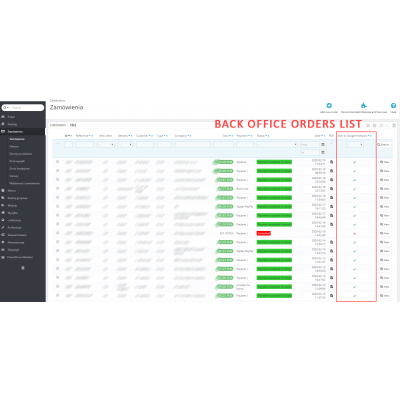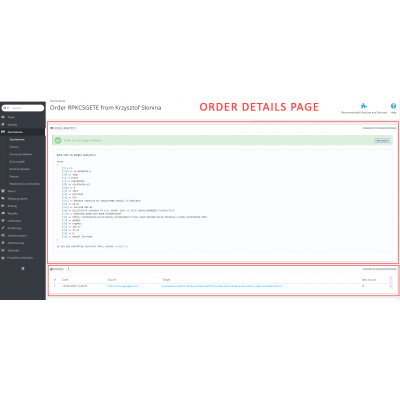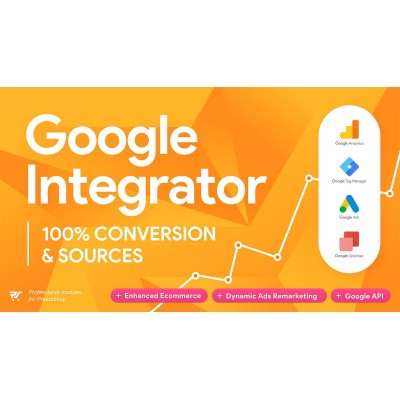 PrestaShop Google Integrator 4.0 - sources, conversion, remarketing
Translations: EN, PL
Reference: PShowConversion
Precise and lossless eCommerce analytics using Google API
Integration with Google Analytics, Google Tag Manager, Ads and Optimize
Remarketing and dynamic remarketing fully supported
Enhanced Ecommerce and DataLayer fully supported
100% guarantee of sending information about each order from PrestaShop to Analytics
Support for all payment methods available on the market
Order support on one page and in many steps
Handling existing orders in the store as well as returns and withdrawals of transactions
Accurate traffic sources
Complete log of operations performed by the module
PrestaShop & Google Analytics integration
Our module will give you 100% analytical capabilities and will allow you to integrate your store with all Google tools and mechanisms available on the market for analytics, marketing and remarketing.
You don't need to use JS Google Analytics or GTM Tracking scripts to have all transactions from PrestaShop in Google Analytics. Our module send orders on the server-side on order status update.
The module will integrate your store with Google Analytics, Ads, Optimize and Google Tag Manager. Take advantage of all the possibilities of Enhanced Ecommerce, DataLayer and Google API to ensure lossless statistics of customer traffic sources, journey and behavior as well as products and orders data. Thanks to dynamic remarketing support, your ads will be better tailored to the customers, which will increase the conversion rate.
Can you configure PrestaShop and Analytics yourself?
If you already use Google Analytics - getting to know the module and configuring all options should not take you more than an hour.
If you are just starting out and do not have a Google account - we encourage you to try it yourself. On the Internet you will find tutorials on how to create an account in Google Gmail and Google Analytics. When configuring our module, you will find detailed descriptions, hints and videos for each function.
If you don't have time - order the module with the service of installation and configuration of the Google account. The service will be implemented in your store within 72 hours, Mon - Fri
Precise traffic sources
The module examines and stores traffic sources based on server logs.It's the most accurate technique we ever found. You will know where your stats come from:
If the customer visits your store several times - you can specify which input source (first / last) will be sent to Google Analytics.
Set the time after which the input source will expire - when a customer visits your store after a long absence.
Skip any input sources - list the sources you want to omit in the statistics, e.g. bank websites.
Google API for Analytics - 100% conversion guarantee
The module will forward each order from the store to your Google Analytics account including information about the customer, traffic source, products, prices, taxes and entire journey through your shop.
Set the order statuses for which conversion and order information have to be sent from PrestaShop to the Google Analytics account. This will prevent from unpaid orders being sent to Google Analytics.
The module supports every payment method available on the market, including bank transfer, check, payment on delivery, PayPal, CashBill, Klarna, Skrill, CECA,ViaBill, Apple Pay, Google Pay, PayLane, Bluemedia, Tpay, Polish ePayments, DotPay and many others.
All Google Tools in one module
The module will integrate all available Google tools for online stores:
Google Analytics
Google Tag Manager
Google Ads & dynamic remarketing
Google Optimize
Google API for lossless communication
Improved Ecommerce and DataLayer
Google Analytics 4.0
Google Integrator works with GA 4.0. All analytical data from your PrestaShop store will be correctly transferred to your GA 4.0 account. Since the introduction of GA 4.0, it has become the default for all new services, and it is in this release that Google will be making future improvements. For more information on the latest version of Analytics, see Google documentation.
Dynamic remarketing for Google Ads
Use the collected data to carry out precise remarketing of ads. Target people who visited your store or specific product pages. Display ads tailored to the products in your store.
Enhanced eCommerce
Use the latest Google analytics solutions for online stores. The module supports DataLayer and Enhanced Ecommerce, so you can analyze:
Shopping behavior and movement in the store
Behavior at the checkout
Examine the effectiveness of the offer and the sales effectiveness of your store
WARNING! DataLayer requires schema.org to be implemented in the store template, e.g. for product https://schema.org/Product. Most PrestaShop templates have this as standard.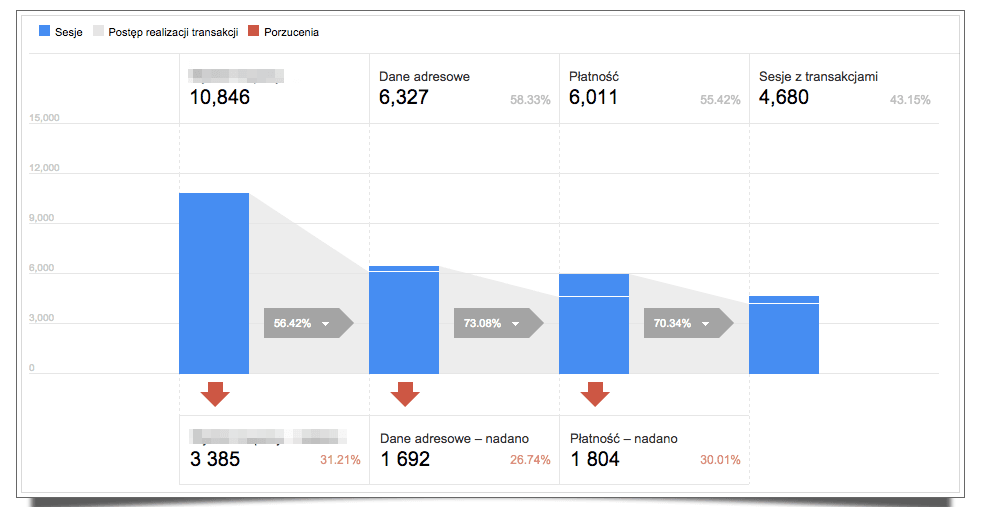 Customer journey on One Page and Steps checkout
The module supports precise order statistics for One Page Checkout (OPC) orders and for multi-step checkout. The "OPC Supercheckout" module is also supported. This will tell you which elements of the order process generate rejections and decrease conversions rate.
Existing and past orders analytics
In addition to automatically sending information about traffic and orders to Google Analytics, the module enables mass sending of existing orders in the store to your Google Analytics account. You can analyse past data before module installation.
Order analytics from outside PrestaShop
If orders in your store are generated by other sources, e.g. ERP or CRM integration, eBay, Marketplaces, etc. - the module will detect them and send information about them to Google.
Returns and transaction rollback support
The module allows you to manually and automatically (based on order status) remove an order and conversion information from Google Analytics - e.g. in the case of returns or cancelled orders.
Confirmation of sending data to Google Analytics
The module adds an interactive "Sent to Google Analytics?" button on the orders list, thanks to which you receive confirmation directly by Google API.
In the order details you will find a list of customer entry points, which allows you to track where your customers come from.
Google Analytics in PrestaShop Multistore
Google Integrator supports PrestaShop Multistore. Multistore support for this module is charged extra. If your PrestaShop store has the Multistore option enabled, you have to select a module with Multistore support to work properly. Multistore support will allow you to configure connections independently for each of the stores or groups of stores in your Multistore.
Intelligent solutions
Thanks to cooperation with specialists from the analytics and advertising industry, we constantly develop the module's capabilities with the current market needs.
Sending conversion information for old orders (existing in the store) is optional. It works automatically on the basis of selected order statuses and manually.
Protection against double sending a transaction. The module controls the sent orders and will not allow for double counting and sending of this information in Google Analytics statistics.
The module logs all its activities to the log.txt file, thanks to which you can learn the details of all interactions that will occur between your customers, store, module and Google Analytics account.
Anonymization of IP addresses in Analytics - support for the Personal Data Protection Act (GDPR).
Order 100% configuration
If you are not a professional analyst, start by collecting data correctly. Subsequent analysis of this data may be priceless, when you will establish cooperation related to advertising or SEO.
Together with the module, you can order module installation (override problem solving, etc.) and configuration of Google Account and Tools.
PSHOW CONVERSION CHANGELOG
==========

v1.32 - 22.10.2021
* fixed problem with price rounding on some PS versions

v1.31 - 13.09.2021
* improved price rounding

v1.30 - 26.08.2021
* you can choose that you want to send net or gross prices to google analytics together with the transaction
* added dataLayer support for the przelewy24 module,
after making a payment and after clicking "Pay by Przelewy24"
* added google_tag_params section to dataLayer for retargeting
(ecomm_prodid, ecomm_totalvalue, ecomm_pagetype, ecomm_pagename,
ecomm_brand, ecomm_category, ecomm_model, ecomm_quantity)
* improved dataLayer functionality

v1.29 - 31.03.2021
* you can enter Google Ads conversion id and conversion label in the module configuration tab: Google Ads

v1.28 - 28.12.2020
* added possibility to enter tracking code for Google Analytics 4
https://developers.google.com/analytics/devguides/collection/ga4/basic-tag?technology=gtagjs#set_up_the_basic_page_tag

v1.27 - 17.12.2020
* fixed an error that caused the order amount not to include the cart rule value
* improved support for PrestaShop 1.7.7

v1.26 - 07.12.2020
* fixed bugs related to the transaction data

v1.25 - 22.10.2020
* possibility to send profit from sales instead of product prices
* module is sending more information to GTM using dataLayer

v1.24 - 14.09.2020
* updated google oauth config - approval_prompt
* error causing lack of information about product sales in Google Analytics has been fixed

v1.23 - 02.03.2020
* you can disable Global Site Tag, so you can use other
modules for tracking user activity in the shop
* disabled GTM event 'purchase' to prevent duplicated transactions

v1.22 - 19.12.2019
* from now you can enter custom source & medium while creating the order in the back-office

v1.21 - 04.10.2019
* fixed missing 'cid' parameter

v1.20 - 19.09.2019
* Important! You must update your dataLayer configuration!
Edit tags which uses event actions: `impressions, detail, checkout, checkoutOption, purchase, refund`
and set: Non-interactive = True
* added support for OPC module 'supercheckout' for PrestaShop 1.7
* added configuration file ready to import in tagmanager.google.com
* fixed bug related to PayU payment module (Jakarta user-agent)

v1.19 - 12.08.2019
* fixed bugs in the traffic source tracking

v1.18 - 06.08.2019
* fixed tracking order steps in PrestaShop 1.7

v1.17 - 28.06.2019
* NEW! introduced integration with Google Reporting API.
From now the module will check that transactions were sent to and exists in the Google Analytics.
* fixed bug with currencies
* fixed bugs

v1.16 - 08.05.2019
* NEW! allow to configure transaction sources which should be ignored
* fixed bugs reported by users

v1.15 - 12.12.2018
* NEW! you can use CRON job to send transactions to GA
* NEW! the module allows to collect data by dataLayer from Google Tag Manager -
measuring product impressions, clicks, checkout steps, purchases and many more

v1.14 - 28.05.2018
* improved tracking of user activity using php measurement protocol
* improved sending of customer data with transaction to GA
* allow to anonymize customer ip address
* official js tracking code is now associated with data sending using measurement protocol

v1.13 - 23.02.2018
* added Google Tag Manager noscript tag (module reinstallation required)

v1.12 - 16.02.2018
* NEW! added data which will be sent to GA on the order page in the back-office
* fixed bug in sending order to GA while first status is add to order

v1.11 - 14.02.2018
* improved traffic sources

v1.10 - 31/01/2018
* adwords tracking improved

v1.9 - 24/01/2018
* improved module configuration
* improved searching of traffic sources
* since this version module is fully working with multistore mode
* NEW! added Google Tag Manager tracking code

v1.8 - 18/12/2017
* improved tracking

v1.7 - 07/12/2017 - Update your module configuration after update to this version
* NEW! added support for google optimize
* NEW! google analytics measurement protocol is used for page tracking (instead of analytics.js)

v1.6 - 16/11/2017
* improved connection with GA

v1.5 - 13/11/2017
* improved client tracking

v1.4 - 03/11/2017
* NEW! option in module configuration: Display tracking code in the store
* NEW! option in module configuration: Expiration of traffic sources
* improved getting of traffic sources
* big changes in traffic sources management

v1.3 - 27/10/2017
* fixed bug in creating new shopping carts

v1.2 - 20/09/2017
* fixed client id
* improved order sending to Google Analytics

v1.1 - 07/06/2017
* fixed many bugs reported by clients

v1.0 - 30/09/2016
* initial version

Technical requirements
PHP in version minimum 7.1. We recommend PHP 7.3 for maximum performance and security
IonCube extension
Nginx or Apache server
MySQL > = 5
Optional extensions for performance optimization: mcrypt, openssl, zip, curl, gd, pdo, varnishd, mod_pagespeed, memcached, apc
PShowImporter module only: required PHP extension libxml in version > 2.9.3
PShowFacebookIntegrator module only: PHP 7.2 for Facebook API support
More about requirements and benefits from it you could read in our Knowledge Base.
Technical support that works
Together with the module, you get 3-month access to support and updates. If your support period expires, you will be able to continue using the module. You can reactivate access to support and updates at any time - see available packages.
Support helpdesk.prestashow.pl
Help in installing and using our modules.
Guarantee of correct operation of the module in your store.
Possibility of paid extension and adaptation of modules to your needs.
On HelpDesk you can order any programming and optimization work for your store and server.
Additional works are priced in advance and implemented due the agreed date.
We process 67% of HelpDesk requests in less than 24 hours.
Modules updates
The latest solutions and security fixes.
Work with the latest version of PrestaShop and PHP.
The modules will inform you about available updates and news in back-office.
You can update the module with 1-click.
Before updating, the module backup its files. In case of any problems, you can quickly restore previous version of module and contact us for help.
License to use PrestaShow modules
Detailed information about the licenses of our modules you will find on this page. Below we describe the most important information regarding the use of our modules and license:
You can use the module without any time limits in one store: 1 module = 1 license = 1 domain.
You can assign the module to the domain yourself after logging in to My Account in our store
You can also use the module in the test store: dev.domain.com, test.domain.com or beta.domain.com.
It is possible to change the domain for your license. For this purpose, please contact us at kontakt@prestashow.pl
You can modify the source code of the modules in tpl and css files. Modification of the engine (core) of the module is associated with the loss of warranty.
You can restore the warranty by installing the unmodified version of the module downloaded from My Account.
Demo
You could test module in our demo store (link in

upper section

)
Some of our modules have demo-content installer
If demo content installer is unavailable please remember to configure module first
You could change demo language in demo store top-menu
Demo store will be automatically deleted after 48 hours
In case of problems with demo - please contact us

Brak powiązanych wpisów blogowych.