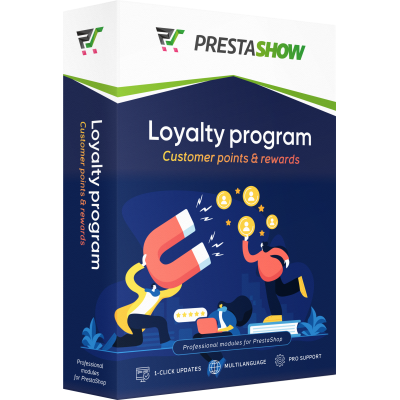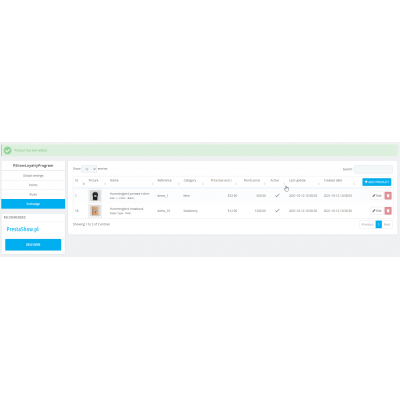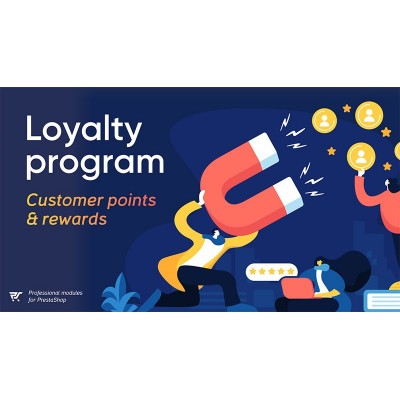 Engage customers to make more purchases using the points they collect
Create point promotions to encourage more purchases
Points information on product page, shopping cart, order and My Customer Account
Extra points for creating an account
Extra points for subscribing to a newsletter
Extra points added manually
Exchange of points for a discount voucher
Exchange points for products available only to members
Rich and easy configuration
Returning customers are the best!
Your customers can collect points for activity in the store and for completed purchases. They will return to your store if they can redeem the points they earn, for example, for exclusive products available only to Loyalty Program participants.
Rules for calculating loyalty points
Products have different margins. The higher the margin, the more points you can offer to the customer.
You can configure points for purchases:
Bulk for the entire catalog according to one common rule
Individually, for example, by category, manufacturer or single product
With a few clicks you will create Points Accrual Rules such as "2x more points for purchases from XYZ category".

Customers like simple Loyalty Programs
Points Information:
On the product page
In the Cart - the total points to be earned
In My Account - the "Loyalty Program" tab with the history of points earned and exchanged

The customer can decide what he/she will do with the loyalty points
In My Account, the customer can exchange the collected points. Points exchanged for a voucher or for products are marked as settled and remain on the list for archival purposes.
Exchanging points for a discount voucher
Enable "Exchange points for discount voucher".
The customer in My Account can exchange the collected points for a discount voucher
Shopping for points
Enable "Shopping for points"
Indicate in the module the products available for purchase for points and set their price in points
On the product page, next to the "Add to cart" button, the "Buy for points" button will appear
If the customer is logged in and has enough points in his account, he will be able to buy the product for points. In the module, you can set that the product purchased for points is to cost a certain amount and a certain number of points, such as PLN 1 + 1500 points.
Boutique
Boutique is a page containing products available for purchase only for points . Indicate the products from your catalog that will appear in the Boutique and give their prices in points. Logged-in customers will be able to exchange their accumulated points for products from the Boutique.
Boutique products are added to the shopping cart and ordered just like other products in your store. A customer can have regular products and products for points in the shopping cart at the same time.
You can include products with combinations in the Boutique. You can give an individual price in points for each combination.
In the Boutique you can place products that are invisible in your store - they will be visible only in the Boutique.
Points for subscribing to the newsletter
Subscribing to the newsletter will be rewarded with points that you set in the module.
The module works with the default PrestaShop newsletter module.
The module will not accrue points repeatedly if the customer unsubscribes and subscribes to the newsletter again.
Points for creating an account
Creating an account in the store will be rewarded with welcome points that you set in the module.
Points you give out manually
Manually add extra points to your customers' accounts. You can appreciate cooperation or alleviate a problem this way. You can describe the points with a note, which will be visible in the history of points in My Customer Account and in the history of points in the module.

Additional features
The module logs all point accrual and exchange operations. Details of each operation can be found in the module.
Accrual of points on the net / gross price of the order
Order statuses for which points will be automatically charged or manual acceptance of points
Welcome page in the Loyalty Program tab in My Account
Consent / condition to be accepted before joining the Loyalty Program
Disable the accrual of points for "Order as a guest" - a customer who places an order as a guest and then creates an account will not have access to the points they may have earned guest orders.
Email notifications - automatic emails sent to customers about the accrual and exchange of collected points.
Full support for PrestaShop Multistore
Migration of points from your old loyalty module
After purchasing the module, open a request on HelpDesk. There is an additional fee for the migration service (about 500 PLN net).
Coming soon
Points for left reviews and comments
Exclusion of products in the promotion
Payment with points at the stage of selecting the payment method during the Ordering process
Exchange points for free delivery
Integration of a shared points account with the Affiliate Program module (PShowReferrers)
Technical requirements
Minimum requirements for all modules
PHP version 7.1 minimum
ionCube server extension
Nginx or Apache server
MySQL >= 5
PrestaShop Importer only: PHP libxml version > 2.9.3
PrestaShop Facebook Integrator only: PHP 7.2 or higher
Optional performance optimization extensions: mcrypt, openssl, zip, curl, gd, pdo, varnishd, mod_pagespeed, memcached, apc
You can read more about the requirements and their benefits in our knowledge base.
Support and warranty
Benefits of having active technical support
Along with the module, you receive a warranty in the form of 3-month technical support and access to module updates. After expiration, you can continue to use the modules you bought. You can renew technical support and access to updates at any time by purchasing any of the available packages. Support covers all modules in your account.
Knowledge Base (FAQ)
Theknowledge base is located on HelpDesk, it is free and open to everyone.
HelpDesk Help
Convenient panel with email notifications

Help with installation, configuration and module performance guarantee for your store




Ask questions and report problems, which will always be solved (57% of requests we complete < 24h)

Order paid expansion and customization of modules to meet your needs

Order any programming and optimization work for your store and server
Module updates
Modules will inform you about available updates

You will update a module with 1 click in the module

The module will backup its files before updating. In case of problems you can restore the previous version and open a ticket on HelpDesk
PrestaShow Module Use License
Please visit this page for detailed license information. Below you will find the most important information regarding our modules and licenses:
You can use a module for unlimited time per store: 1 module = 1 license = 1 domain.
You can also use the module in the test store: dev.domena.pl, test.domena.pl, beta.domena.pl.
Changing the domain for a license is possible. For this purpose, please contact us at kontakt@prestashow.pl.
You can modify the source code of the modules in tpl and css files. Modification of module's engine (core) will result in loss of warranty.
Demo
Test in the demo store

You can change the language of the demo store (PL, EN, DE, ES, IT, FR) using the top menu of the demo store
Demo will be automatically deleted after 48 hours
If you have any problems with the operation of the demo store - contact us
You will find the link to the demo store of this module in the top section of the page
PRESTASHOW - THE PLACE WHERE ECOMMERCE HAPPENS
© 2014-2022