Dropshipping at PrestaShop
Dropshipping is a sales model consisting in the delivery of a shipment by the supplier. The role of the online store using dropshipping is mainly limited to generating orders and sending them to the supplier who carries out the shipment.
Delivery by the supplier in the dropshipping model is not obligatory. Shipment can be made directly by the store if he orders larger quantities from the supplier.
Dropshipping is a good solution for beginner stores that sell in smaller quantities and for bulky goods.
At prestashow.pl we have prepared a module that will make your store a dropshipping store.
The Feeder will allow you to generate XML feeds with any data from your store. You can share XML feeds with other stores and also integrate with price comparison websites and marketplace.
Thanks to this, your products will be available in many places, which brings more traffic, sales and turnover.
Feeder allow you to generate product feeds with any product range and for any recipients of your store. No limits with configuration.
Feeder is ready XML integration for marketplace such as Facebook and Google marketplace as well as for price comparison websites such as Ceneo or Skąpiec.
Feeder also allow you to create your own XML feeds - with any structure and any set of data, e.g. only with prices and quantities or links to photos.
Read about some new features in Feeder module in the article below.
Generated XML files from PrestaShop
Feeder is a module for PrestaShop 1.6 and 1.7 for export data from your store. The module allow you to select any data from your store and export it to a file in XML format. In the module you will find ready integration with sales portals and price comparisons websites. The module will also allow you to create your own data feeds, so you can integrate with any platform and recipient - whit no restrictions.
We have prepared a module update, thanks to which the export of huge amounts of data will not charege the server and will allow you to conveniently manage many feeds.
Data export from the store, i.e. generating a new XML feed, consumes server resources. In order not to block the server, files should be generated when the server traffic is the least. To this end, we have added CRON support to the module, thanks to which you can generate XML files on a scheduled day and at any time, e.g. at night, when the store's traffic is the lowest.
Feeder is an efficient solution. You can generate data files that require frequent updates (prices, stocks) at any frequency. Thanks to this, your recipients will not order e.g. unavailable products. You could set different CRONs for any feed you create in our module.
Two ways to generate XML feeds
Read-only XML Feed - XML ​​file generated and refreshed by CRON, saved on the server and ready to download without generating any load
Feed XML on demand - an XML file generated when the URL link is called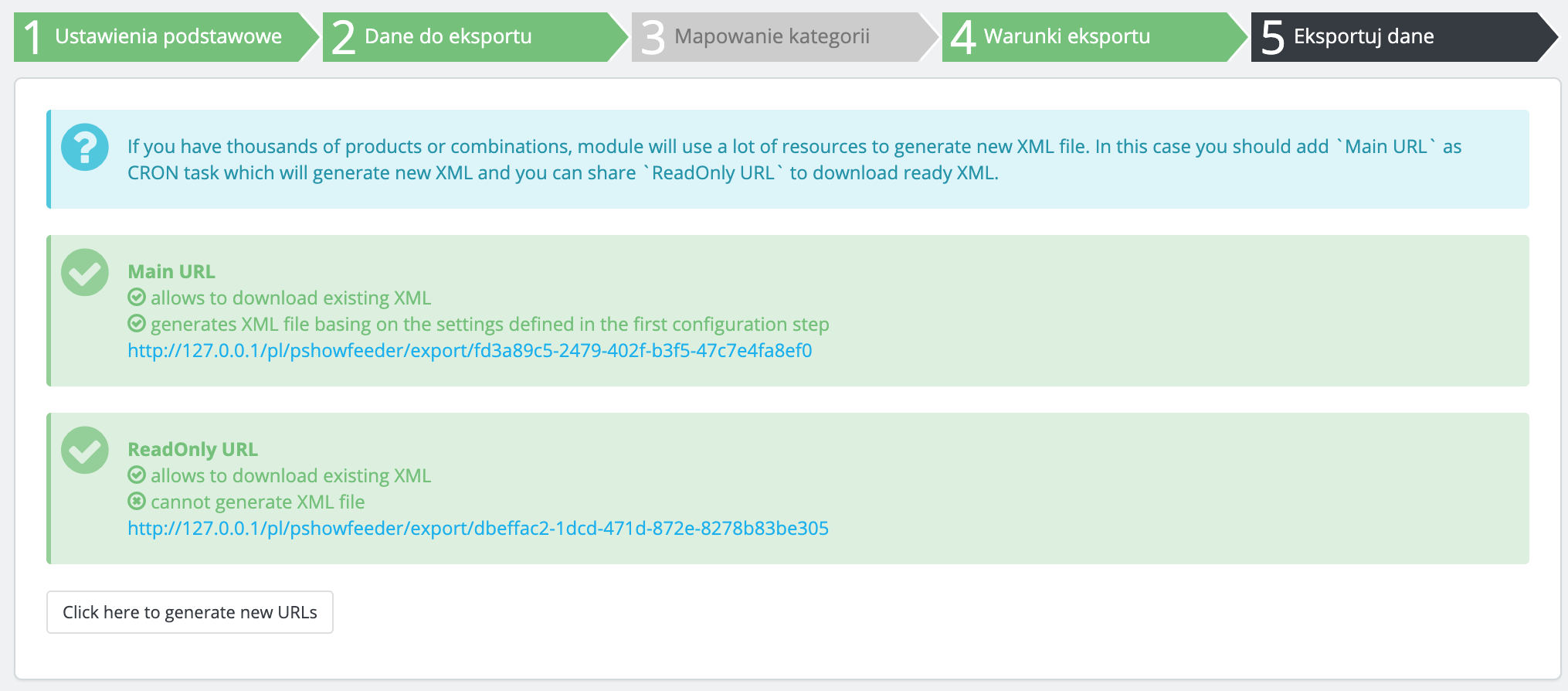 Read-only XML feed
Feeder generates an XML file according to CRON plan (e.g. at night) and stores it on the server until the next generation. If you share large XML files for many entities (e.g. Facebook, Google, etc.) - give them read-only XML feed. Downloading such a file by a recipient, e.g. Google Shopping, will only generate network traffic and will not use the processor and RAM.
XML feed on demand (Main URL)
Feeder can generate a file when the URL is called. If you want, e.g. share an XML file with current data (prices, stocks, etc.) - use the XML feed on demand. Such a file will be generated when the link is called. You can set the time for which once generated XML feed will be available for download (e.g. for 60 minutes). After this time file will be regenerated. Thanks to this, you will avoid generating files at the same time or in short intervals of time while providing your recipients with always current data from your store. The XML feed will only be refreshed when the recipient needs it.
New ready XML feeds
In Feeder you will find ready integrations for the most popular sales platforms. As part of the update, we've added two new ready XML feed configurations:
"Full standard products.xml" contains all data about products in your store.
"Full combinations.xml" contains all data about combinations and attributes of products in your store
The structure of both files allows for complete data export from PrestaShop, for the purposes of integration of CRM systems, tools and stores that you want to integrate with or to which you want migrate to. You can also use tconfigurations to build your own XML feeds. Just duplicate them and edit ionfiguration to suit your needs.
Both configurations are also compatible with our Intelligent Import Manager module for PrestaShop. This means that with a Feeder and Importer you can integrate any PrestaShop 1.6 or 1.7 stores.
1.5

1.6

This module work with PrestaShop

version 1.6

1.7

This module work with PrestaShop

version 1.7

72.21

EUR net

+ 3 months free support

1.5

This module work with PrestaShop

version 1.5

1.6

This module work with PrestaShop

version 1.6

1.7

This module work with PrestaShop

version 1.7

Override required

231.71

EUR net

+ 3 months free support