PrestaShop tax number validator - VIES / Vatapp / GOV.UK
Translations: EN, PL
Reference: pshowtaxnumber
VAT validation in all PrestaShop address / invoice forms
Checking the authenticity of VAT numbers on up to 4 levels in Polish and European databases
Transparent messages and blocking of saving the form in case of providing an incorrect number
Automatic correction of the entry of tax numbers, eg PL 1132419179
We could connect module to your local country tax number database
Validate EU VAT numbers directly in your PrestaShop store
The correctness of the VAT number is important if you sell B2B in your store. Incorrectly completed tax identification number during the order may generate additional costs caused by unauthorized aboard sales without VAT, accounting problems and a waste of time that you spend on checking correct data or contacting with your customers.
This module will automatically connect to the address forms in your PrestaShop store and validate the authenticity of the VAT field, which is completed by B2B customers when placing the order.
The module guarantees that the invoice data form will be blocked with an incorrectly completed EU VAT number. The module also blocks the possibility of selling to foreign entities that do not have a European VAT number.
Validation of the entered tax number takes place in real time and does not require reloading the page or saving the data:
Correct validation highlights the field in green and allows customer to save the form with data for the invoice

Incorrect validation highlights the field in red and informs the user about the problem with the VAT number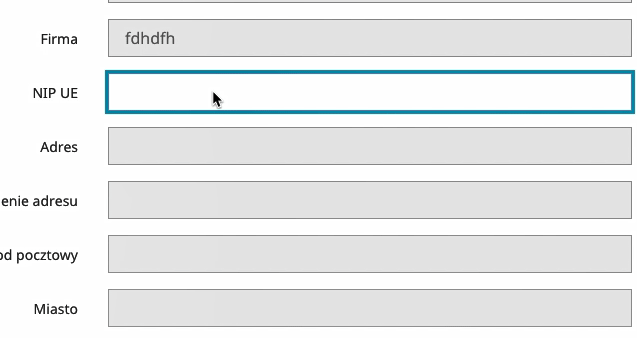 Module automatically formats the number entered by the customer, removing unnecessary characters and unnecessary spaces from it and forcing the country code to be entered by customers, e.g. PL 1132419179. Thanks to this, you will maintain the valid tax number, which will be appreciated by your accountants and ERP programs adapted to the current tax law.

Smart validation
Checking the correctness of the entered VAT number consists in the automatic correction of the number format and checking its authenticity at 4 levels, incl. in the VIES system. Module also use internal calculator to count VAT number authenticity.
If the external services are working properly or are not overloaded, checking the authenticity of the tax number run immediately.
The process of validating entered number does not block the possibility of filling the rest of the form.
Local country tax numbers databases
Module is connected to VIES, Vatapp and GOV UK remote databases to run EU VAT validation.
Modules is connected to official Polish database mf.gov.pl
You could order connection of this module to you local country official tax number database. To do this prepare links and documentation to you local tax database and send it to us using contact page.
Attention! Selected remote VAT database resources may not work for reasons independent of the module. Module then skips validation in offline sources and validates with other methods. Formatting and basic validation always take place.
Tax security and correct invoices
Orders, especially foreign ones, with an incorrectly completed VAT number may generate a loss due to incorrectly calculated tax for the order. Thanks to the validation of the number provided by the customer, you can be sure that you will not lose VAT. This module works with our PrestaShop Invoices module.
Install and forget
After installation, the module does not require any additional configuration. If your template uses the standard PrestaShop mechanisms to process addresses, the module should work fine. Depending on the store template, you may need to customize the appearance of messages. In case of problems, open a ticket at helpdesk.prestashow.pl
The module has been fully translated into Polish and English.
TAX NUMBER CHANGELOG
==========

v1.5 - 11.01.2022
-----
* important improvement of checking the EU tax number for 0% taxes
(could have had a negative impact on the loading time of store pages)
* other small fixes

v1.4 - 08.12.2021
-----
* added UK vat number validation

v1.3 - 22.11.2021
-----
* fixed bug that could cause problems with saving addresses of retail customers

v1.2 - 08.11.2021
-----
* module will remove taxes for orders which have assigned invoice address
with valid tax number inside European Union (except Poland)
* added UK company number validation

v1.1 - 02.11.2021
-----
* added support for PrestaShop 1.6

v1.0 - 27.07.2021
-----
* tax number validation in the customer address form

Technical requirements
PHP in version minimum 7.1. We recommend PHP 7.3 for maximum performance and security
IonCube extension
Nginx or Apache server
MySQL > = 5
Optional extensions for performance optimization: mcrypt, openssl, zip, curl, gd, pdo, varnishd, mod_pagespeed, memcached, apc
PShowImporter module only: required PHP extension libxml in version > 2.9.3
PShowFacebookIntegrator module only: PHP 7.2 for Facebook API support
More about requirements and benefits from it you could read in our Knowledge Base.
Technical support that works
Together with the module, you get 3-month access to support and updates. If your support period expires, you will be able to continue using the module. You can reactivate access to support and updates at any time - see available packages.
Support helpdesk.prestashow.pl
Help in installing and using our modules.
Guarantee of correct operation of the module in your store.
Possibility of paid extension and adaptation of modules to your needs.
On HelpDesk you can order any programming and optimization work for your store and server.
Additional works are priced in advance and implemented due the agreed date.
We process 67% of HelpDesk requests in less than 24 hours.
Modules updates
The latest solutions and security fixes.
Work with the latest version of PrestaShop and PHP.
The modules will inform you about available updates and news in back-office.
You can update the module with 1-click.
Before updating, the module backup its files. In case of any problems, you can quickly restore previous version of module and contact us for help.
License to use PrestaShow modules
Detailed information about the licenses of our modules you will find on this page. Below we describe the most important information regarding the use of our modules and license:
You can use the module without any time limits in one store: 1 module = 1 license = 1 domain.
You can assign the module to the domain yourself after logging in to My Account in our store
You can also use the module in the test store: dev.domain.com, test.domain.com or beta.domain.com.
It is possible to change the domain for your license. For this purpose, please contact us at kontakt@prestashow.pl
You can modify the source code of the modules in tpl and css files. Modification of the engine (core) of the module is associated with the loss of warranty.
You can restore the warranty by installing the unmodified version of the module downloaded from My Account.
Demo
You could test module in our demo store (link in

upper section

)
Some of our modules have demo-content installer
If demo content installer is unavailable please remember to configure module first
You could change demo language in demo store top-menu
Demo store will be automatically deleted after 48 hours
In case of problems with demo - please contact us

Brak powiązanych wpisów blogowych.