+ 3 months free support
BESTSELLER
PROMOTION
A new, free source of traffic and orders for your store
Referrals via reflinks and discount codes
Commission for the referrer and discount for the buyer from the referral
Commission for 12 months on each order from account referral
Commission Accrual Rules - different commissions for different products
List of earned commissions in My Customer Account
Convenient statistics and commission accounting
Optional acceptance of terms and conditions before joining the program
Affiliate program in your PrestaShop store
This module will allow you to build your own affiliate program. Configure the module, invite your customers and watch the effects. Once implemented, the Affiliate Program will wind up on its own, generating a new, free source of traffic to your store - referrals.

Referral links - reflinks
The module generates an individual reflink for each customer who joins your Affiliate Program. A reflink is a link with an added parameter to any URL that leads to your store.
Example reflink: prestashow.pl/?utm_campaing=123456
Reflink stores information about:
The amount of commission for the referrer
The value of the discount for the buyer who clicked the reflink
If someone enters your store through a reflink, the module automatically detects this and adds a discount code in the shopping cart, as well as identifies the referrer and charges them a commission if the order is completed.
Try it out: click this link, then add the module to your cart and enjoy an automatic 10% discount :-)
https://prestashow.pl/40-program-partnerski.html?utm_campaign=REF_Z8N6KWDSYL
Statistics and analytics
The partner ID in the reflink is described by a parameter called utm_campaign. This will allow you to analyze customer origin in Google Analytics - two birds with one spit. If you want to learn more about proper data collection for analytics and marketing, check out our Google Integrator module.
Referral discount codes
Your store can be recommended by discount codes, containing partner, commission and discount information.
The module generates an individual discount code for each member of the program.
When a customer coming from a referral uses the discount code in the shopping cart, the module will add the discount to the order, and after successful payment, it will calculate the commission for the referrer.
Build your own Affiliate Program
In the module you will set the content of the welcome page available in the "Affiliate Program" tab in My Customer Account:
Content before joining + optional consent / terms and conditions
Contentafter joining, such as welcome and affiliate guide
Before joining the Affiliate Program
The customer in My Account, under the "Affiliate Program" tab, will find the "before joining" description and the "Join Affiliate Program" button. Optionally, you can enable the agreement to the terms and conditions necessary to accept in order to join the Program .
After joining the Affiliate Program
In My Customer Account you will see the "after joining" description and information on how to use the available referral methods:
Information on how an individual reflink and discount code works
The amount of commissions and discounts
History of earned commissions with basic order data (the module takes into account the privacy policy)
Possibility of exchanging collected commissions
Adding new participants
Accept join requests manually or enable automatic acceptance of join requests
Add a customer manually using autocomplete option (customer must have an account in the store)
The module will inform you on the Dashboard about new requests to join the Affiliate Program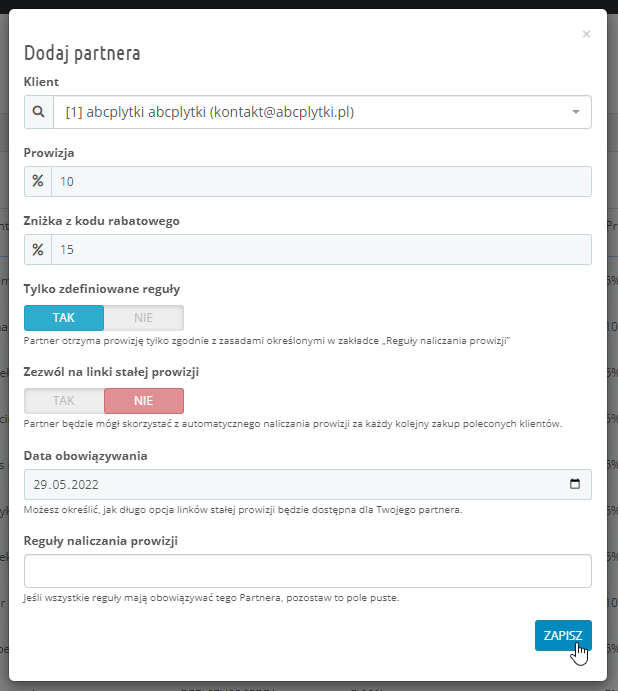 Rules for calculating commissions
Rules will allow you to charge different commission values for different products.
You can create multiple rules and edit them freely.
When editing a participant's account, assign him any of the created rules.
Based on the rules, the customer will receive a commission on each generated referral.
Editing the Rule will not affect the previously accrued commissions.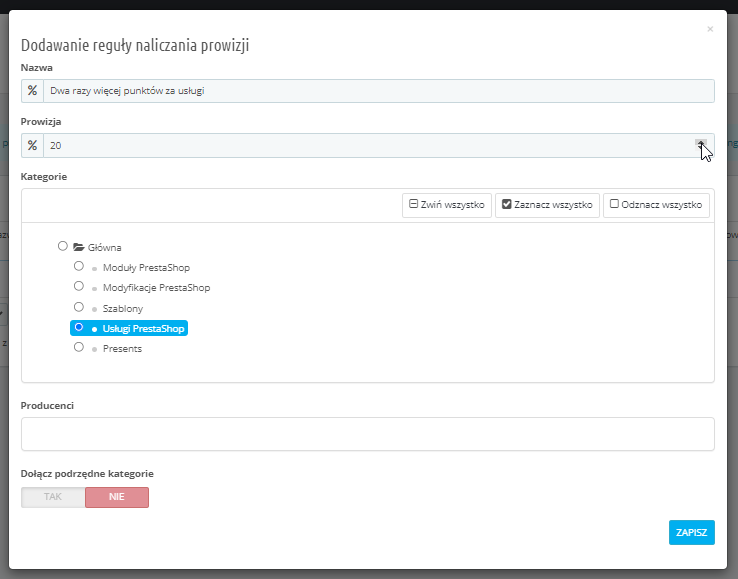 Exchange of commissions by participants
Exchange of commissionsfor a discount voucher - in My Account, the customer can mark the earned commissions that he wants to settle by exchanging them for a discount voucher to be redeemed in your store.
Request withdrawal of earned commissions - the customer can mark the selected commissions and request withdrawal of funds by leaving a message, e.g. with an account number. Make the settlement on your own and mark the request as accepted. You can disable access to this option.
Affiliate Program Management
List of participants
View and manage your Affiliate Program participants. Go into a participant's details to see their commission and referral histories and edit their individual settings, such as assigning them Commission Charge Rules or changing commission and rebate rates.
List of commissions
Here you will find the referrals and commissions that have been generated by participants of the Affiliate Program
Commission statuses
A new commission in the system receives two statuses: Unaccepted and Unbilled.
Commission Not Accepted -> Accepted.
Commission Unsettled -> Settled.
Accepting commissions
You can accept commissions manually in the list of commissions
You can enable automatic acceptance of commissions on the order status
The customer can access commissions with the status "Accepted".
You can withdraw Accepted - the commission will no longer be visible in My Customer Account
Commission settlement
You can manually mark an accepted commission as "Settled".
The commission will automatically mark as "Cleared" when the customer exchanges the commission for a voucher
A commission will automatically mark as "Cleared" when you request a commission payment (you must accept the request).
Additional settings
Content for the text "What's the point?" before joining and after joining the program
Content for the consent required when joining the program
Enable "Affiliate Program" in My Customer Account for non-participating customers
Enable "Affiliate Program" in My Client Account for participating clients
Default global values of commissions and discounts
Charge commissions on net or gross order value
Lifetime of cookies for entries from referral links
Whether the affiliate should receive in commissions on the first or on all orders for X months
Order status with which commissions will be automatically accepted
The number of additional days after the Status, after which the commission will be charged - you will avoid charging commissions for orders that are returned, for example.
Join the PrestaShow Affiliate Program
If you are a programmer, creator of interesting modules or represent an agency join the PrestaShow Affiliate Program. At the beginning of cooperation, for recommending our modules and services to your clients you will receive:
10% commission for you and 10% discount for your clients :-)
Coming soon in the module
Integration of commission account with loyalty points of

PrestaShop Loyalty Program

module.
Withdrawal of funds upon customer request
Exchange for premium products, which are available only to Affiliate Program members
Technical requirements
Minimum requirements for all modules
PHP version 7.1 minimum
ionCube server extension
Nginx or Apache server
MySQL >= 5
PrestaShop Importer only: PHP libxml version > 2.9.3
PrestaShop Facebook Integrator only: PHP 7.2 or higher
Optional performance optimization extensions: mcrypt, openssl, zip, curl, gd, pdo, varnishd, mod_pagespeed, memcached, apc
You can read more about the requirements and their benefits in our knowledge base.
Support and warranty
Benefits of having active technical support
Along with the module, you receive a warranty in the form of 3-month technical support and access to module updates. After expiration, you can continue to use the modules you bought. You can renew technical support and access to updates at any time by purchasing any of the available packages. Support covers all modules in your account.
Knowledge Base (FAQ)
Theknowledge base is located on HelpDesk, it is free and open to everyone.
HelpDesk Help
Convenient panel with email notifications

Help with installation, configuration and module performance guarantee for your store




Ask questions and report problems, which will always be solved (57% of requests we complete < 24h)

Order paid expansion and customization of modules to meet your needs

Order any programming and optimization work for your store and server
Module updates
Modules will inform you about available updates

You will update a module with 1 click in the module

The module will backup its files before updating. In case of problems you can restore the previous version and open a ticket on HelpDesk
PrestaShow Module Use License
Please visit this page for detailed license information. Below you will find the most important information regarding our modules and licenses:
You can use a module for unlimited time per store: 1 module = 1 license = 1 domain.
You can also use the module in the test store: dev.domena.pl, test.domena.pl, beta.domena.pl.
Changing the domain for a license is possible. For this purpose, please contact us at kontakt@prestashow.pl.
You can modify the source code of the modules in tpl and css files. Modification of module's engine (core) will result in loss of warranty.
Demo
Test in the demo store

You can change the language of the demo store (PL, EN, DE, ES, IT, FR) using the top menu of the demo store
Demo will be automatically deleted after 48 hours
If you have any problems with the operation of the demo store - contact us
You will find the link to the demo store of this module in the top section of the page
PRESTASHOW - THE PLACE WHERE ECOMMERCE HAPPENS
© 2014-2022