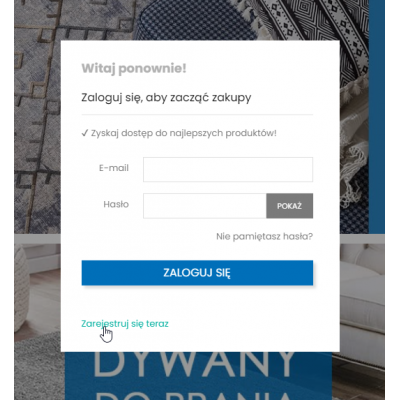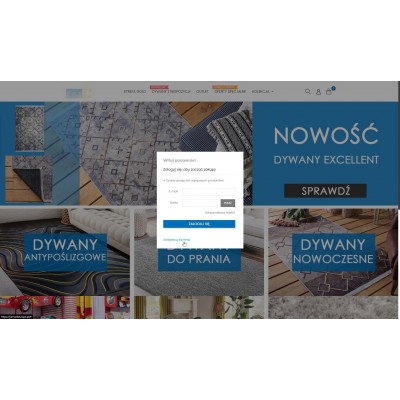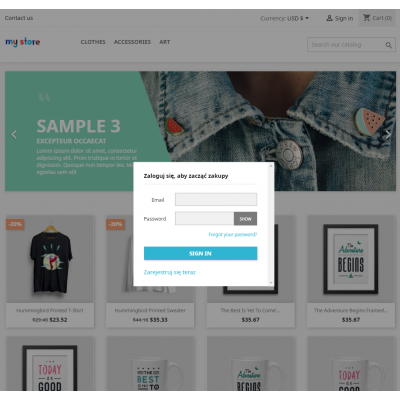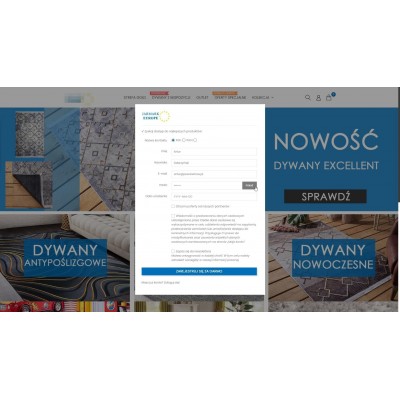 Login and registration in PUP-UP
Intelligent validation and password reminders
Store still accessible for web robots and visible in search engines - SEO friendly
PrestaShop store available after login
This module will come in handy if you want to restrict access to your store to registered customers and at the same time not lose your positions in Google and other search engines.
Customer's first entry
After entering the store, the user will see a POP-UP with a login form, password reminder and a link to register the account.
The customer can log in or renew the password
The customer can create an account and accept your terms and conditions
The customer after registration is automatically logged in and redirected to the main page of the store.
A customer's next entry (when previously logged in)
If a customer has logged in during his last visit to the store, a "Welcome back!" message will be displayed to him upon entering the store.
Intelligent validation without reloading the page
In case of an error during registration (e.g. busy e-mail), the module will display information about the error and will redirect to the account creation page.
Store visible for search engines
Internet robots, including the Google robot, have full access to all data, just like a logged-in user:
You can advertise your store without fear of having your advertising account blocked
Content on the homepage and all subpages of your store will still be accessible to web robots
Easy module configuration
Lightweight .tpl and .css files are responsible for the appearance of the login POP-UP, which you can quickly adjust to your needs. By default, the module adjusts the appearance to the template used.
Quickly enable/disable the module
Modifying the content of the email sent after setting up an account in the store
The text visible above the registration form
Technical requirements
Minimum requirements for all modules
PHP version 7.1 minimum
ionCube server extension
Nginx or Apache server
MySQL >= 5
PrestaShop Importer only: PHP libxml version > 2.9.3
PrestaShop Facebook Integrator only: PHP 7.2 or higher
Optional performance optimization extensions: mcrypt, openssl, zip, curl, gd, pdo, varnishd, mod_pagespeed, memcached, apc
You can read more about the requirements and their benefits in our knowledge base.
Support and warranty
Benefits of having active technical support
Along with the module, you receive a warranty in the form of 3-month technical support and access to module updates. After expiration, you can continue to use the modules you bought. You can renew technical support and access to updates at any time by purchasing any of the available packages. Support covers all modules in your account.
Knowledge Base (FAQ)
Theknowledge base is located on HelpDesk, it is free and open to everyone.
HelpDesk Help
Convenient panel with email notifications

Help with installation, configuration and module performance guarantee for your store




Ask questions and report problems, which will always be solved (57% of requests we complete < 24h)

Order paid expansion and customization of modules to meet your needs

Order any programming and optimization work for your store and server
Module updates
Modules will inform you about available updates

You will update a module with 1 click in the module

The module will backup its files before updating. In case of problems you can restore the previous version and open a ticket on HelpDesk
PrestaShow Module Use License
Please visit this page for detailed license information. Below you will find the most important information regarding our modules and licenses:
You can use a module for unlimited time per store: 1 module = 1 license = 1 domain.
You can also use the module in the test store: dev.domena.pl, test.domena.pl, beta.domena.pl.
Changing the domain for a license is possible. For this purpose, please contact us at kontakt@prestashow.pl.
You can modify the source code of the modules in tpl and css files. Modification of module's engine (core) will result in loss of warranty.
Demo
Test in the demo store

You can change the language of the demo store (PL, EN, DE, ES, IT, FR) using the top menu of the demo store
Demo will be automatically deleted after 48 hours
If you have any problems with the operation of the demo store - contact us
You will find the link to the demo store of this module in the top section of the page
PRESTASHOW - THE PLACE WHERE ECOMMERCE HAPPENS
© 2014-2022