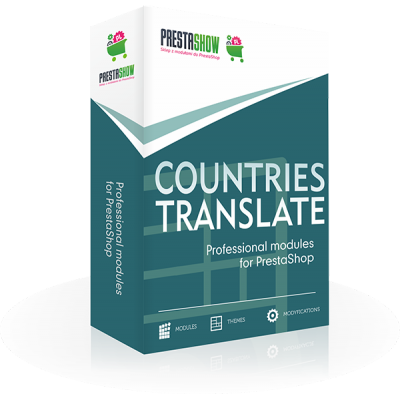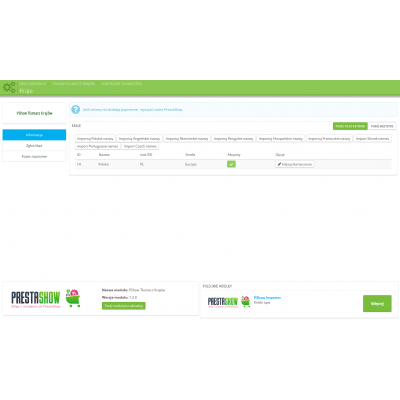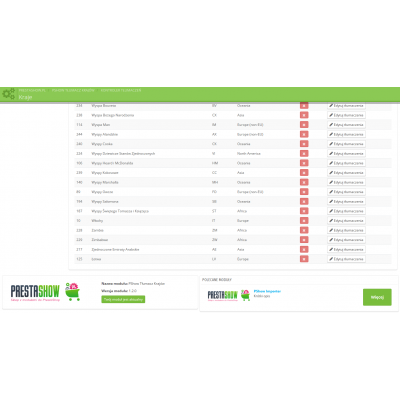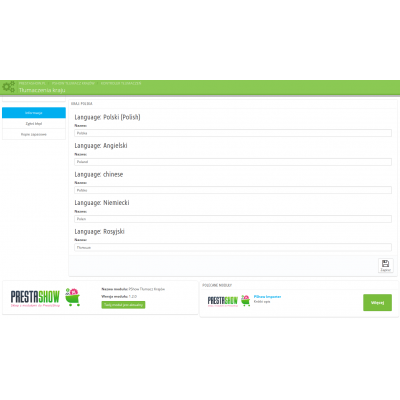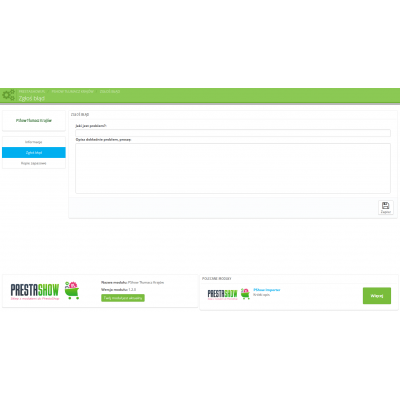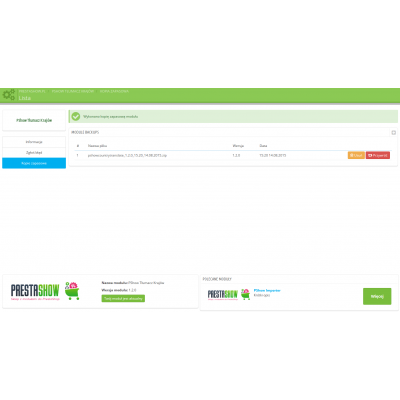 Translate country names for shipping into languages enabled in your store
Use ready-made translations of more than 250 countries for the most popular 9 languages
Add your own translations
Country name translations in PrestaShop
PrestaShop allows you to name countries in only one language. If you ship products abroad let your customers choose the country of delivery. Use the module to translate the names of available countries in your store.
You can use ready-made translations prepared in 9 languages. With one click you will add more than 250 country names translated into 9 languages!
You can also translate other languages in your store.
Technical requirements
Minimum requirements for all modules
PHP 7.1 or higher
ionCube server extension
Nginx or Apache server
MySQL >= 5 or MariaDB
PrestaShop Importer only: PHP libxml version > 2.9.3
PrestaShop Facebook Integrator only: PHP 7.2 or higher
Optional performance optimization extensions: mcrypt, openssl, zip, curl, gd, pdo, varnishd, mod_pagespeed, memcached, apc
You can read more about the requirements in the knowledge base.
Support and warranty
3-Months Free Technical Support
Along with the module, you get 3 months of technical support and access to updates. When the time expires you can continue to use the module. You can renew access to support and to the latest module versions at any time by purchasing any of the available packages. The package includes the entire domain and all modules assigned to the domain.
Knowledge Base - FAQ
Theknowledge base is free and open to all. In it you will find documentation of the modules and answers to frequently asked questions.
HelpDesk panel
HelpDesk is a convenient panel for communication, on which we provide help during the use of modules. On HelpDesk you will order any programming work and optimization of the store and server.
Module updates
Modules will inform you in your store about new updates. You will perform the update directly in your store with 1-click.
PrestaShow modules use license
PrestaShow modules use license
You can find the full content of the license on this page. We have described the operation of the license handling system on this page. Below is a summary of the most important information:
Domain and additional domains
You can assign the module after purchase to 1 store = 1 domain. You can use the module in the domain without time limits. You can add a test/developer store domain to each domain for free. Support for domains in PrestaShop Multistore requires the purchase of
multistore support
for the module.
Changing the domain
Changing the domain is possible. For this purpose, please contact us.
Code modification
The module code related to the integration with the store and the appearance (.tpl, .css) is open source and you can modify it freely. The module source is encrypted with ionCube.
Demo
Test in the demo store

You will find the link to the demo store of this module in the top section of the page
You can change the language of the demo store and the language of the module (EN, PL, DE, ES, IT, FR) using the top menu of the demo store
The demo will be automatically deleted after 48 hours
In case of any problems with demo store operation - please contact us