Table of Contents:
How to download PrestaShow modules?
How to install PrestaShow modules?
During the installation of the module there was a problem....
How to download PrestaShow modules?
All modules purchased in our store will be available in your account automatically after payment is credited. In 99% of cases, this happens immediately after placing an order. In the following instructions you will find useful information related to the use of modules, licenses, our store and support system.
To download the purchased modules follow the steps below.
Tip: With your prestashow.pl account credentials you will also log in to helpdesk.prestashow.pl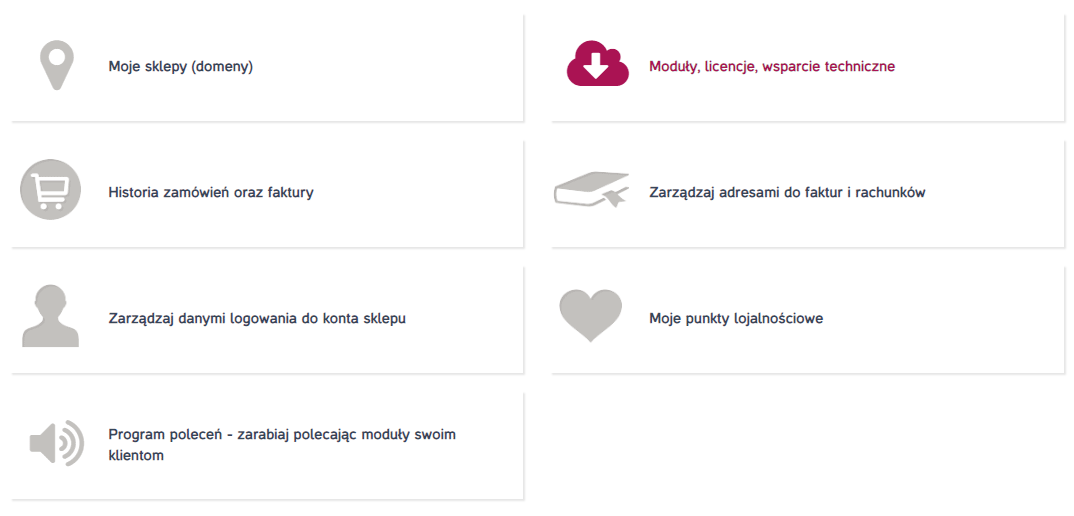 2. go to"My stores (domains) " tab and click Add store in the upper right corner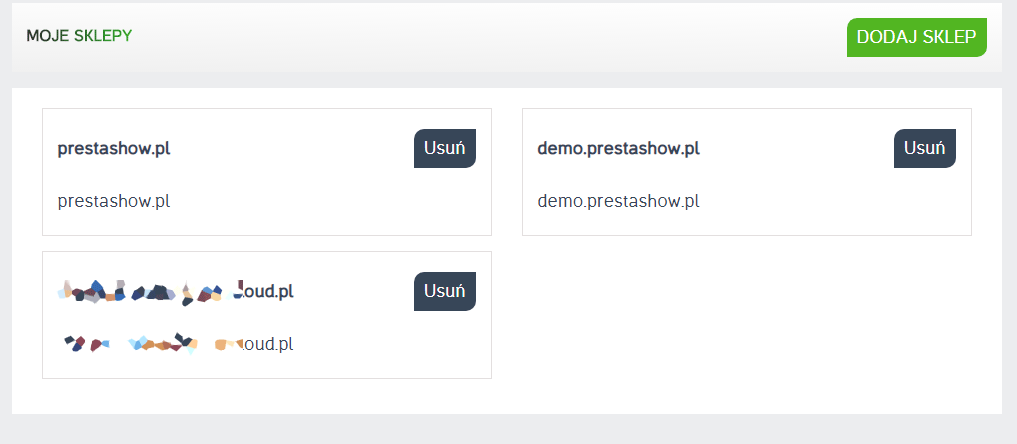 3. add the domain to which you will want to assign the purchased module
TIP: Enter the domain without https://www. Enter the domain name itself.

Here you will find information about the period of access to technical support. You will be able to extend access at any time.

If your support access is valid, you will be able to download current versions of modules.
If you do not have valid support, you will still be able to download the modules in the latest version available on the day your support expired.
Once your support access is restored, you will be able to download the current versions of the modules.
Support covers all modules in your account.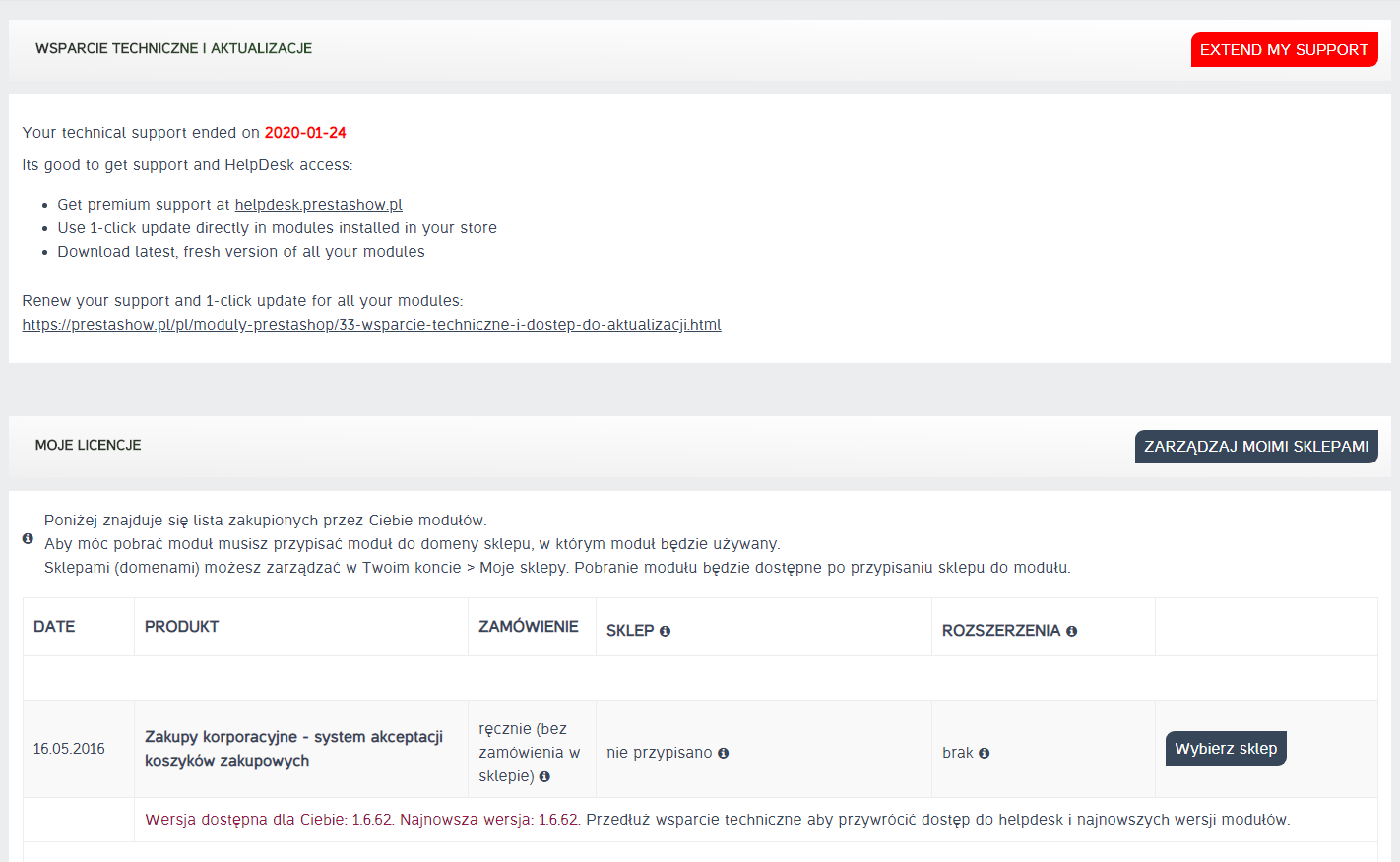 5 Assign the module to the store you created earlier by clicking Select Store.
Tip: You can install one module in 1 store. The license allows you to install the module in the domains: domain.pl, dev.domain.pl, test.domain.pl and localhost.
6. after assigning to a domain, you can download the package with the module.
Tip: If you upgrade your store to a newer version of PrestaShop, you will always be able to download our modules for the latest version of PrestaShop.

How to install PrestaShow modules?
Installation and configuration of PrestaShow modules is the same as other modules available on the market:
Log in to the back office
Go to the tab with modules
Upload the downloaded .zip package with the module
Click Install
PrestaShow modules after installation will create an additional item in the back office menu, available at hand sorted alphabetically.
An exclamation mark next to the module will inform you of an available update.
To update the module - enter the module and click "Update".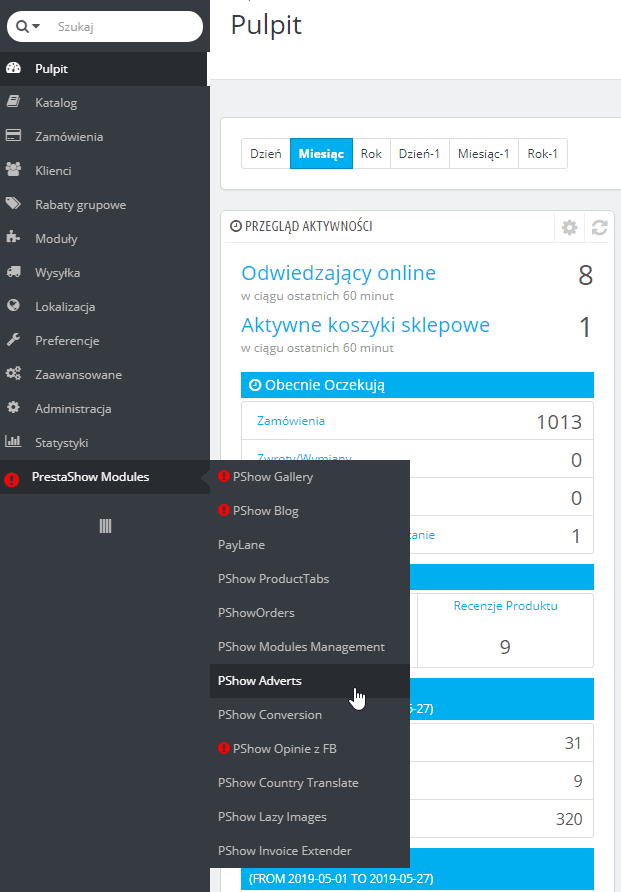 There was a problem while installing the module....
Some of our modules use Override files. If your store is experiencing a problem during the installation of a module, it is most likely related to PrestaShop Override: your store uses the same Override files that the installed module wants to use.
In this case, the Override files of your store and the installed module should be manually merged into one file. This is the only possible solution:
Sample error message related to override: