Rounding, margin and price markup in PrestaShop
PriceMaster module has been updated to version v1.38. This version introduces many conveniences, thanks to which price management in your store will become complete and convenient.
What can you use the PriceMaster module for?
PriceMaster module will help you manage mass prices change. Select products by any criteria (category, manufacturer, feature, supplier...) and set the operations you want to perform on prices.
The module will massively change prices, but you will also round up prices and generate prices for combinations and specific prices, add margins and more.
Margins and markup for prices in PrestaShop
The module allows you to add margins and mark-ups per product or mass. If the margin on the product has been set individually and massively together, then the module will take into account only the margin set individually. Thanks to this, you will maintain tidiness in your store, even if you cover the same product with many margin or price operations.

margin / markup given in the product
Manage margins and markups from the product list
To improve work with margins and mark-ups, you can enable an additional column in the product list. Directly from the list you will be able to quickly (without saving) change the value of the margin or mark-up for each of the products individually.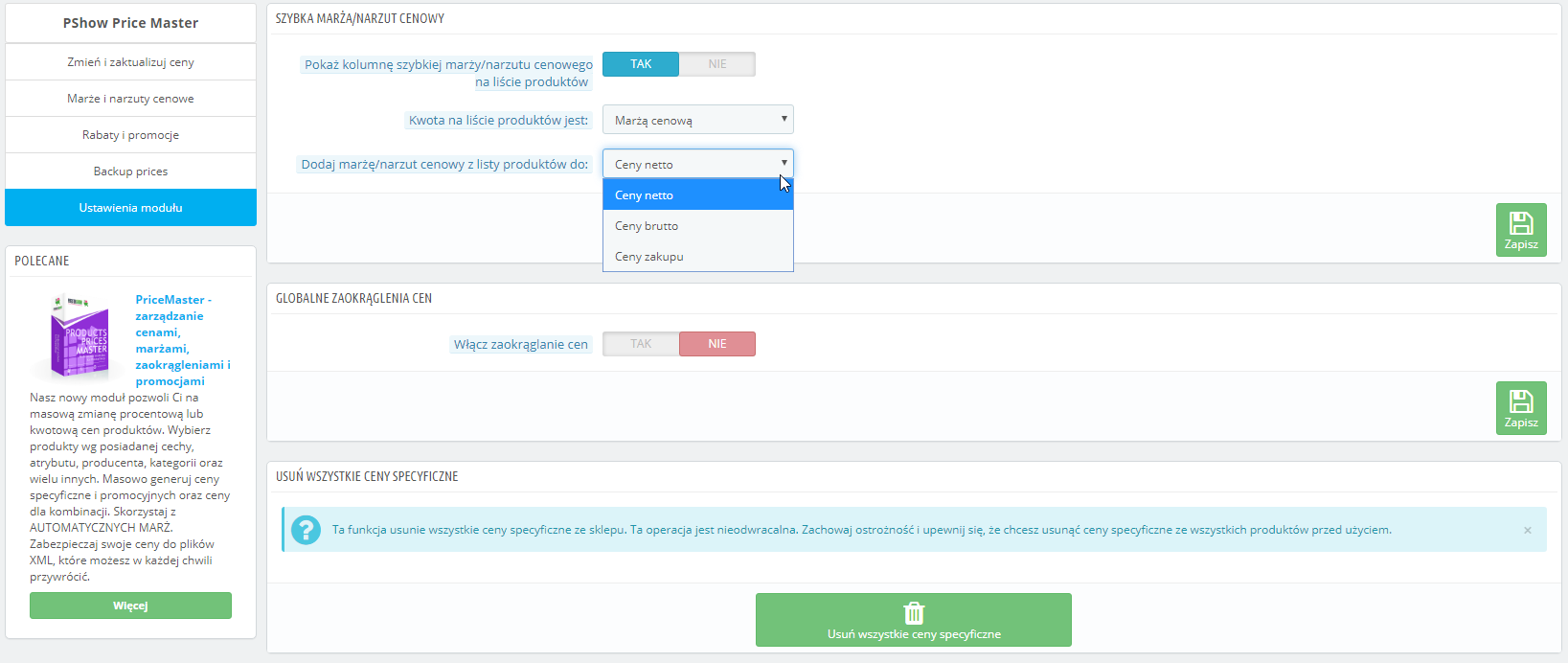 Enable margins or price markups edit directly on the product list
Price rounding in PrestaShop
PriceMaster will allow you to round product prices in your online store. You are able to use two methods:
Price rounding in the database
Live price rounding
Both methods will round up prices of products in your store by any product selection criteria and rounding method. You have a lot of rounding option available in module. You could also use regex for create your custom criteria.
Select update prices in the database, if you send products from your store to external portals that connect to your database Integrations that retrieve data from your database will download prices rounded by the module.
Choose live rounding if you only sell online from your store or if you very often update product prices from external integration or XML import. In this method, the module uses the PrestaShop PriceCalculation function. This function is used in PrestaShop, e.g. for calculating the gross price - based on the net price * VAT value. The gross price itself is not saved in the database, but only calculated on the front of the store and transferred to the basket and order.
The difference between both methods is mainly about server load. The live method does not load the server at all. The price updating method in the database uses server resources and requires CRON. Both methods will work imperceptibly on a medium quality server and product catalog below 50,000 SKUs.
Flexibility
PriceMaster will allow you to freely round prices and add margins and mark-ups: by producer, category and other values characterizing the product. There are also a lot of other options to manage prices faster: generate prices for combinations, generating promo prices, clearih all specific prices, etc.
PriceMaster module also works with importers and integrations with wholesalers. Detects price changes and automatically adjusts prices according to your settings.
1.5 This module work with PrestaShop version 1.5 1.6 This module work with PrestaShop version 1.6 1.7 This module work with PrestaShop version 1.7 DEMO

124.7 EUR net + 3 months free support

1.5 This module work with PrestaShop version 1.5 1.6 This module work with PrestaShop version 1.6 1.7 This module work with PrestaShop version 1.7 Override required DEMO

231.71 EUR net + 3 months free support