PrestaShow Affiliate Program
We invite agency owners and freelancers who create PrestaShop based online stores to join our PrestaShow Affiliate Program! By joining the program you will have direct access to the orders that your referrals generate.
Commission for you, discount for your customers
To get started we offer 20% of each order generated by your reflink or discount code. You can split the 20% between your commission and your customer's discount. For example, recommending modules or services worth 1000 PLN net:
Your client will receive a discount of 10% - they will pay 900 PLN
You will receive a 10% commission on your client's purchase - 90 PLN
At prestashow.pl you will find over 50 modules and services for PrestaShop, which your customer may be interested in. If a customer creates an account with your reflink you will receive commission on all their purchases for 12 months!
Clear rules
Our Affiliate Program is based on the module that you will find in our store - we guarantee that our rules are clear, which every good affiliation should follow.
For convenient communication with your customers you will be able to use:
Your URL link to our store (reflink)
Your discount code
Both methods, if used by your customers, will earn them a discount and you a commission on the entire prestashow.pl shopping cart.
How do I join the PrestaShow Affiliate Program?
Create an account with us
Go to My Account > Referral Program
Click on the request to join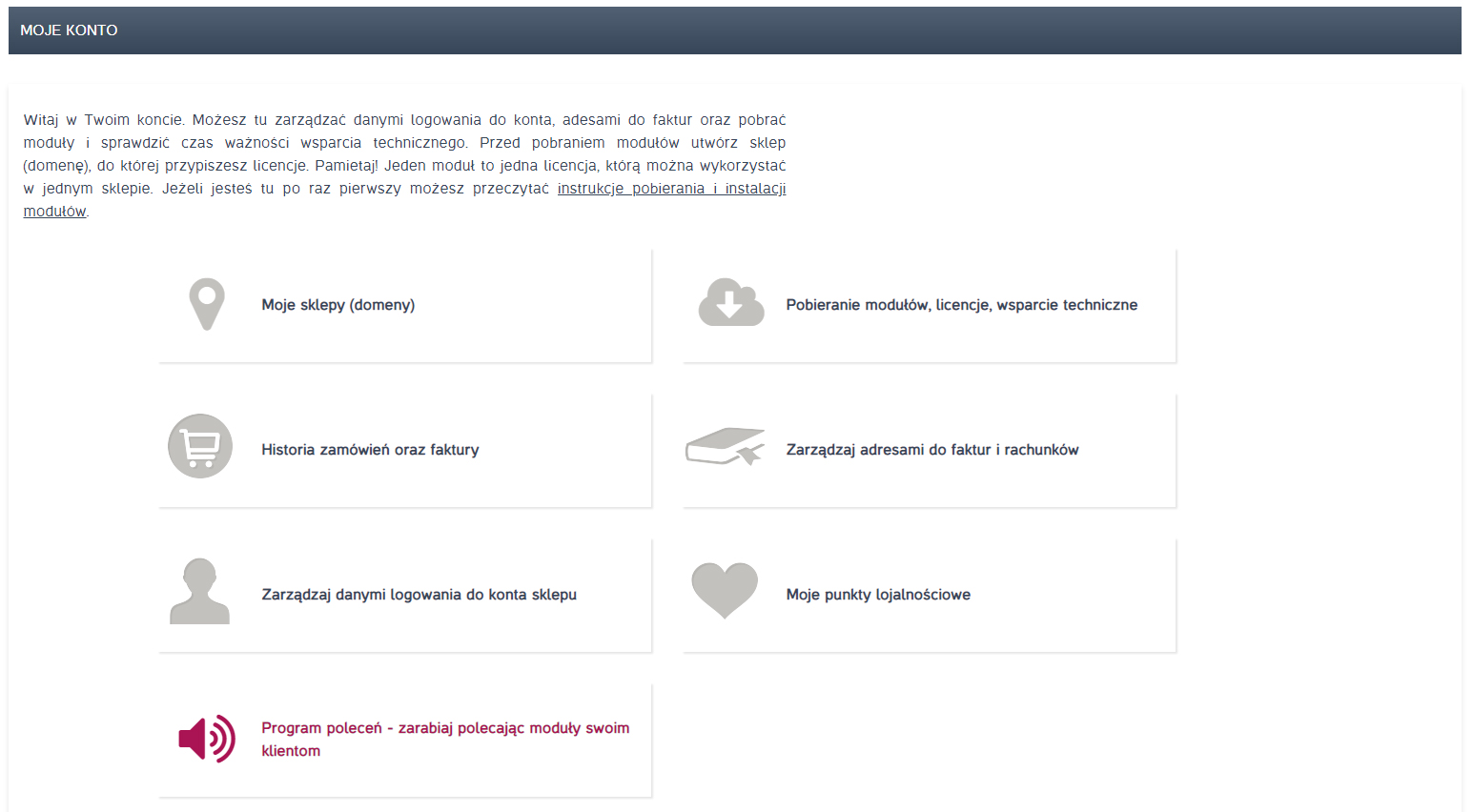 Once your request has been accepted you will receive:
A personalized affiliate link and discount code
Access to your orders and commissions
Do you design PrestaShop modules?
PrestaShow is not just a virtual store:
Documentation and a proprietary and automated procedure to support the module creation and development processes
We use all the benefits of GIT and Docker version control system
Our modules come with the PrestaShow framework which is responsible for working properly with every version of PrestaShop - you don't have to do a thing!
With the PrestaShow framework you can focus only on the logic of the module
Backbone is responsible for secure licensing, 1-click upgrade system and is integrated with HelpDesk
On the HelpDesk and in the Knowledge Base you will provide a high level of support
If you are the author of a module that you would like to monetize please contact us individually.